St Andrew's Day
A day of Scottish life and culture
| 2021 | 2019 | 2018 | 2017 | 2016 | 2015 | 2014 | 2013 | 2012 | 2011 | 2010 | 2009 | 2008 |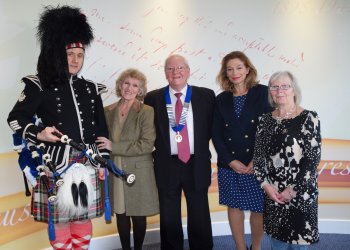 Presenters, officials and piper gather beforehand. Left to right: Martin Bristow [piper], Jess Smith, Stewart MacDougall [president], Maria João Kay, Joan Allan [vice-president].
Perth's main celebration of St Andrew's Day, the sixteenth Perth Burns Club's annual Day of Scottish Life and Culture, was held in the Soutar Theatre at the A. K. Bell Library, York Place, Perth on Saturday, November 30th, 2019.
This event has long had a reputation for high quality and, if anything, 2019 surpassed expectations. All three principal speakers were outstanding and delighted the audience. One of many pieces of positive feedback went: "I must say that the past speakers have been of a very high standard, but yesterday in my humble opinion was the best ever."
Principal Speakers
After being piped in by Martin Bristow, the audience was welcomed by club president and chairman for the day, Stewart MacDougall. Pete Wishart MP, who had hoped to give the opening address, had been detained by General Election duties, so we went straight to the first of our speakers.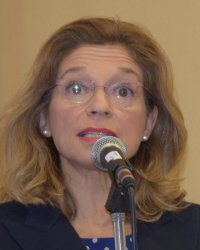 Maria João Kay
First at the podium was Maria João Kay who presented "EU Citizens in the UK". Maria João is a retired modern languages teacher who has lived in Scotland from 1979, raising her family here with husband Billy Kay. She began with some amusing insights into the historical links between Portugal and Scotland, partly military from the Peninsular Wars, and partly commercial, particularly in the wine and port business. Family anecdotes provided more recent colour, including a (very) brief flirtation on Madeira between one of her daughters and a young lad who turned out later to be Cristiano Ronaldo! Nearer home, Maria João demonstrated that acquiring a Fife accent had been well within her modern language compass.
Maria João then turned to the problems faced by EU nationals in the UK dealing with the Brexit process. Having to re-establish your identity can be stressful, particularly if you haven't applied for British citizenship or don't have a full employment record. Many females who have spent years raising families are in this situation and the system can be operated in a heavy-handed, slow-moving way. A number of cases covering a variety of nationalities spread across the UK were profiled. In Scotland, the authorities seem to be much more understanding and Maria João praised the active assistance of the Scottish Government.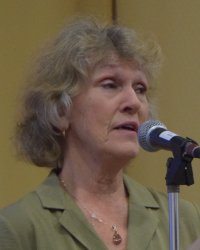 Jess Smith
Next up was weel-kent author and storyteller Jess Smith, who presented "A Promise Kept". Speaking without notes, Jess recalled a silent promise made to her dying father Charles Riley in 1982. He had submitted a manuscript entitled 'The Way of the Wanderers' to Hamish Henderson at the Scool of Scottish Studies, but was never replied to. This became the inspiration for Jess's own researches into the travelling folk and her later writing collection - autobiography, collected tales and the novel.
Jess then treated us to a succession of great tales from her earlier life. Her father's acquisition of a bus, fitted with Axminster carpet, which served as the family home. The relations between traveller and local children, often fraught, and sometimes with segregated schooling. Her first meeting with husband David, featuring a swan dive to the floor by Jess (apparently accidental) in a Crieff shop. All this culminated in the hilarious 'Pitlochry Nativity', camel and all.
Jess has now recovered most of her father's papers and intends to publish them in some form – watch this space!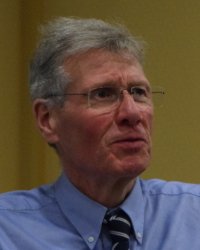 Kenny MacAskill
The final presentation of the afternoon was "Lockerbie", given by Kenny MacAskill, the former Justice Minister, and another campaigner in the current General Election. Kenny recalled the events which followed the 1988 Pan Am 103 bombing over the town. This was a tale of intrigues, including the fluctuating relationships between global powers and a variety of terrorist groups, plus the complications introduced by big business exploiting fuel and mineral reserves at ground level. The Scottish authorities often felt like small cogs in a mesh of large wheels.
Kenny was full of praise for the people of Lockerbie, 11 of whom died in the disaster, for their humanity and resourcefulness in coping with the immediate aftermath. Their kindness towards families of the victims continues to this day. Also meritworthy was the operation mounted by the Scottish police to recover belongings and material evidence, scattered over a huge area of south-west Scotland.
Despite the various conspiracy theories and arguments over the conduct of the subsequent trial, Kenny is convinced that Libya was definitely the perpetrator. Megrahi was offered up by the Libyans to protect their regime - his rank being acceptable to all parties. Kenny's decision to release Megrahi from jail (he had been diagnosed with terminal cancer) was controversial, but he continues to defend it on the basis of respect for the prisoner's family. The scenes which greeted Magrahi's arrival in Libya were orchestrated (and partly faked!).
Club vice-president Joan Allan brought a super afternoon to a close with a vote of thanks for the excellent performances of all the presenters, the caterers and the very supportive and participative audience.
All photographs courtesy of Elliott Boyle, Perth Burns Club.
Email Elliott if you'd like a copy of a photograph.