St Andrew's Day
A day of Scottish life and culture
| 2021 | 2019 | 2018 | 2017 | 2016 | 2015 | 2014 | 2013 | 2012 | 2011 | 2010 | 2009 | 2008 |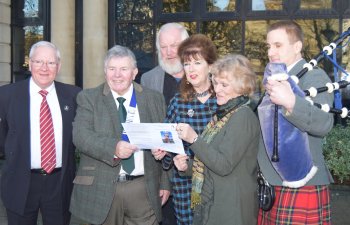 Presenters, officials and piper gather beforehand. Left to right: Stewart MacDougall [vice-president], Jim Calderwood [president], Professor Ted Cowan, Elly Taylor, Jess Smith, Martin Bristow [piper].
Perth's main celebration of St Andrew's Day, the thirteenth Perth Burns Club's annual Day of Scottish Life and Culture, was held in the Soutar Theatre at the A. K. Bell Library, York Place, Perth on Saturday, November 26th, 2016.
Once more the event lived up to its reputation for high quality, and an appreciative audience of 57 left in good humour after an educational, entertaining and moving afternoon programme. All the presenters were in fine form and gave credence to Perth's City of Culture aspirations.
Principal Speakers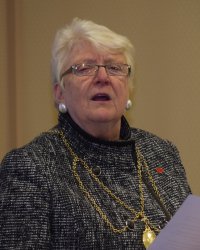 Provost Liz Grant
After being piped in by Martin Bristow, the audience was welcomed by club president and chairman for the day, Jim Calderwood, who invited Provost Liz Grant to give the opening address.
The Provost expressed her thanks to Perth Burns Club for organising the day, and described a number of complementary events taking place in the City both in celebration of St Andrew and in the run-up to Christmas.
She concluded by reciting:
"Wher'er we live, what'er our lot
Still will I plead and pray
That Scot rejoice wi' brither Scot
Upon St. Andrew's day."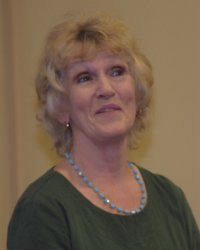 Jess Smith
The first presenter was Jess Smith who covered "Witch Hunt", beginning with the burnings of Kate Macniven, the witch o' Monzie, and Maggie Walls of Dunning, then reflecting on the underlying reasons for their executions.
Kate Macniven was burned in 1615, despite an attempt by the Laird of Inchbrakie to save her. She was later commemorated in a poem by Duncan Mactavish, published in 1897, containing the lines:
"And fient a copper 'er I made
At what they ca'd the Witchin' Trade
But then, ye see, I got the name
O bein o a dangerous fame".
Maggie Walls was burned in 1657 with no record as to why; each year a wreath is mysteriously left at her monument, inscribed: "In memory of Maggie Walls, burnt by the Church in the name of Christianity."
Jess described the turbulent times prevailing in 17th century Scotland, the power of the Church and the persecution of outsiders such as gypsies (erroneously derived from Egypt), who faced summary trials and executions. Burns' Tam o Shanter describes the prevailing view of the ungodly, looked on by the authorities in suspicion and fear for their singing, dancing and music. Shakespeare's Macbeth conjures up similar scenes of the witches' coven. The Reformation period brought no respite for those outside the Church. Martin Luther's book Liber Vagatorum gave licence for vagabonds to be persecuted, culminating in Hitler's purge of the Roma gypsies. By Victorian times, witch imagery was more comic, with Halloween rituals and scary stories replacing the violence of yore. However, the ostracisation of outsiders (c.f. Brexit) remains a markedly human trait.
Jess followed her illustrated researches with a really lively Q&A session, much enjoyed by the audience, and our afternoon began in splendid style.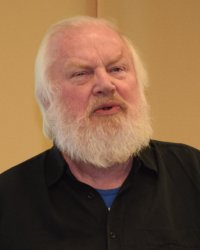 Professor Ted Cowan
Professor Ted Cowan then took stage to recount "The First World War Rhymes of Robert Service". Service was born in 1874 in Preston to a Scots family who originated from Kilwinning in Ayrshire. He lived briefly in Kilwinning before moving to Glasgow where he attended Hillhead High School. He worked as a bank clerk then, when 21, emigrated to Canada where he travelled and took various jobs, eventually being posted to the Yukon by the Canadian Bank of Commerce in 1904, shortly after the Klondike Gold Rush had completed. He applied his early poetic leanings to write The Shooting of Dan McGrew, The Cremation of Sam McGee and The Call of the Wild and published his first collection Songs of a Sourdough in 1907 which resulted in great financial success. Ballads of a Cheechako was a further success in 1908, and Service left the bank in 1909 to become a full-time writer in Dawson City. His third book, Rhymes of a Rolling Stone was published in 1912 and his wealth allowed him to travel to the US and Europe, particularly France.
Service married Parisienne Germaine Bourgoin in 1913, living in Paris and Lancieux (Brittany) in the summer. When WW1 broke out, he tried to enlist, was rejected due to ill-health, but worked as a stretcher bearer and ambulance driver with the American Red Cross until 1916, when his health gave out. During his convalescence, he produced Rhymes of a Red Cross Man, becoming the most prolific war poet of his time.
Ted described how Service's poems spelled out the grim realities of war in contrast to the established notions of noble sacrifice with details withheld. Service certainly recounted bravery, camaraderie, and humour in the face of suffering, but he was also completely candid about fear, hate, loss and revenge. These lines are from Funk:
When your legs seem made of jelly,
And you're squeamish in the belly,
And you want to turn about and do a bunk:
For Gawd's sake, kid, don't show it!
Don't let your mateys know it --
You're just sufferin' from funk, funk, funk.
This is from The Odyssey of 'Erbert 'Iggins where men trying to help a wounded German were shot by him:
'E'd a shiny bald top to 'is 'ead,
But when I got through,
Between me and you,
It was 'orrid and jaggy and red.
In Fleurette there is a very moving moment when a young French girl kisses the hideously disfigured face of a man who had smothered a bomb to protect his comrades.
In My Mate, a soldier is killed while reading a letter from his child:
'E was killed so awful sudden that 'e 'adn't time to die.

Ted's delivery delighted the audience; his expressive style was laced with humour and humanity as well as demonstrating an encyclopaedic knowledge of his subject.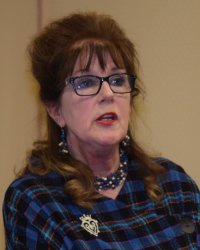 Elly Taylor
The final presentation of the day was given by film-maker Elly Taylor, who previewed her 1996 film "Angelou on Burns". Elly described how she set up her own company after spending 23 years with the BBC, and started looking for film opportunities. She had enjoyed the poetry of Maya Angelou, the African-American writer (published in the UK by Virago), and was helped by the publisher to make contact with Maya who was sold on the idea. C4 (via Stuart Cosgrove) and BBC were also receptive, but there were knockbacks in raising finance until lottery funding was obtained.
The film is based round a pilgrimage to Burns country in Scotland made by Maya Angelou to commemorate the bicentenary of the death of Robert Burns. It won the Best Entertainment Programme at the CRE Race in the Media Awards of 1996; was a finalist in the Media Net Awards at the Munich Film Festival in 1996; and was a Bafta Scotland nominee in 1997.
Born Marguerite Johnson in St Louis, Missouri on 4 April 1928, Maya Angelou has had a colourful and often arduous life. In the first of her memoirs, I Know Why The Caged Bird Sings (1969), she recounted her early traumas. Raised by her grandmother in Stamps, Arkansas, she was raped by her mother's boyfriend at age 7, and did not speak a word for nearly six years, rendered mute. In this time, she read widely and discovered Burns, along with many other poets and writers. An inspirational schoolteacher insisted that to truly enjoy poetry, one must read it aloud, and Maya began to talk again. "When I began to read Burns I couldn't figure out the language he was using," Maya says. "I've always loved puzzles, though, and I got a dictionary. I did my best, and eventually I did work out what he was saying and I loved it. His spirit was a humanitarian spirit, he was able to love human beings, and his imagination was vast."
During the film Maya explores the strong parallels that exist between her and Burns - poor beginnings, early love of literature, fame, liberty and equality, music, religion, love and passion - and meets enthusiastic Burnsians, who welcome her to a party in Dundonald Castle in Ayrshire thrown to honour her visit and Burns' genius. Noticeable among the gathering were Elizabeth Auld, Dick Gaughan, Kirsteen McCue, Donny O'Rourke and a certain Professor Ted Cowan!
Maya Angelou was a lifelong Civil Rights campaigner who was friends with Martin Luther King. She died aged 86 in 2014. Elly's film was a poignant celebration of her life and inspiration.
Club vice-president Stewart MacDougall brought a memorable afternoon to a close with a well-rounded vote of thanks for the efforts of the organisers, the excellent performances of all the presenters, and the very appreciative audience.
All photographs courtesy of Elliott Boyle, Perth Burns Club.
Email Elliott if you'd like a copy of a photograph.