St Andrew's Day
A day of Scottish life and culture
| 2021 | 2019 | 2018 | 2017 | 2016 | 2015 | 2014 | 2013 | 2012 | 2011 | 2010 | 2009 | 2008 |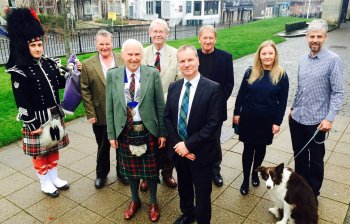 Presenters and organisers gather beforehand. Back row, left to right: Martin Bristow [piper], Arthur Bruce [committee], Lawrence Read [vice-president], Jim Crumley, Dr Pauline Mackay, Gregor Ewing. Front row, left to right: Iain Mackintosh [president], Pete Wishart MP, Meg [collie].
Perth's main celebration of St Andrew's Day, the eleventh Perth Burns Club's annual Day of Scottish Life and Culture, was held in the Soutar Theatre at the A. K.Bell Library, York Place, Perth on Saturday, November 29th, 2014.
This year's presenters fully extended the high-quality reputation of this event, and an audience of 60+ was well informed and entertained by the afternoon programme.
Principal Speakers
After being piped in by Martin Bristow, the company was welcomed by club president and chairman for the day, Iain Mackintosh, who invited Pete Wishart MP to give his opening address.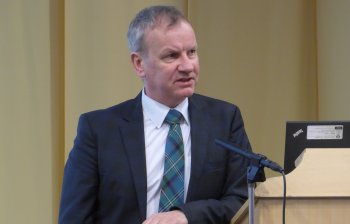 Pete Wishart MP
The MP for Perth and North Perthshire recalled a momentous year for Scotland. The sense of Scottish identity had never been stronger, in contrast to the difficulty of defining Britishness where it is so much harder to find enduring common characteristics across all the cultures. Pete spoke of his pride in promoting Gaelic during his career with Runrig. He thanked Perth Burns Club for organising this event which re-emphasised Scottish roots and history, literature and landscape.
The first presenter was Gregor Ewing who covered "The Bruce, Meg and Me". His walk retracing Robert the Bruce's footsteps finished in May 2014, lasted 9 weeks, and covered 1,000 miles across the length and breadth of the country.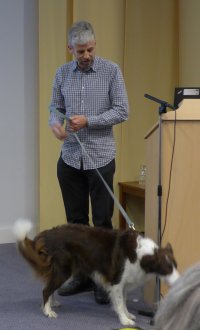 Gregor Ewing with Meg
Bruce was born in Turnberry and became Earl of Carrick in 1295. In 1306 he murdered a rival claimant to the throne (John Comyn) and was himself crowned king at Scone. However, excommunication, early military defeats and banishment followed, while many of his family were captured and executed.
After his return from Ireland and The Hebrides with a new army, Bruce was able to conquer his main Scottish rivals – Comyn at Inverurie, Ross at Urquhart Castle and McDougall at Brander. He pursued a policy of destroying castles, but sparing his opponents in return for their loyalty.
Gregor's route then took in iconic Bruce locations in Forfar, Arbroath, St Andrews, Perth, Dunfermline, Edinburgh, Dunbar, Berwick, Melrose, Stirling and Bannockburn. After 1314, Bruce's exploits continued in Northern England and Ireland, eventually forcing the English crown to accede to Scottish independence. Bruce died at Cardross in 1329.
Gregor walked up to 18-20 miles a day and lost nearly two stones in weight. He and Meg (complete with her rucksack) carried all their own supplies (e.g. pasta and other high-energy foods), mainly camping overnight, avoiding waterlogged caves and occasionally finding a welcome dry bothy. Packed with historical information and well-illustrated, this was a really enjoyable start to the programme.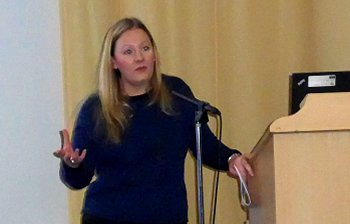 Dr Pauline Mackay
Dr Pauline Mackay's subject was "The Merry Muses of Caledonia". The first printed edition of Burns' bawdry work is dated 1799 and was produced for the use of the Crochallan Fencibles, a gentleman's club which mustered in Anchor Close in Edinburgh. Burns was an attender at these gatherings during his Edinburgh visits and enjoyed witty repartee with William Smellie, the editor of the first edition of Encyclopaedia Britannica who was also club chairman. Recent research has established that the Merry Muses was printed by Alexander Smellie, son of William, who carried on the family business.
Burns collected the material over many years from sources in Scotland, England, Ireland and Europe. A few of the verses are his own and he improved many of the originals. The mores of the 18th, 19th and early 20th centuries meant that open publication of such material was impossible. Burns played an active role in circulating bawdry texts amongst his many prominent contemporaries – public and professional men (including the clergy) and literary figures like Scott and Byron.
Although its detractors are wont to label bawdry work pornographic, Pauline demonstrated that Burns' work contains many of his trademark denunciations of cant and hypocrisy. Both John Anderson My Jo and Green Grow the Rashes O had bawdry versions before being 'cleaned up'.
Having established her audience's consent, Pauline read examples, including Come Rede Me Dame, The Fornicator, When Princes an Prelates, and Act Sederunt o the Session. The Merry Muses will now feature as an integral part of the Burns canon, and Pauline drew generous applause for both the research and entertainment content provided by her session.
Dr Ian Duncan, the proposer of the Immortal Memory to the Perth Burns Club dinner of 2001, was in the audience and described the recent re-mustering of the Crochallan Fencibles in Edinburgh Castle.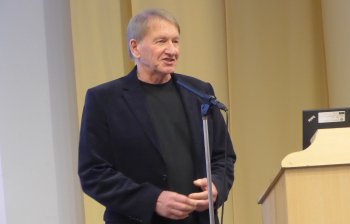 Jim Crumley
The final presentation of the day was provided by nature writer Jim Crumley, who spoke on "Scotland's Eagles: A New Frontier for Nature". Jim read from Dougie MacLean's "All Who Wander", then the prologue of his book "The Eagle's Way", beautifully describing the flight of a single, female golden eagle he described as "Nature's ambassador".
Jim reflected on the outrages perpetrated by humans against Nature and welcomed the re-introduction of beavers to Argyll, the greater lobby to conserve whales, and the repopulation of sea eagles into the Scottish landscape, initially on the west coast, and now in North Fife. In time – maybe 10 or 20 years – the sea eagle will once again outnumber the golden eagle, as it did historically.
He described an "eagle highway" between east and west Scotland, theorising that because the Fife sea eagles were imported from Norway, they only know west coasts and that some deep sunset-written instinct takes them there still. The title "The Eagle's Way" is the route they take up Strathtay and over the mountains to join their numbers already established on Mull and Skye. Further readings and recollections described Jim's direct sighting of sea eagles breeding, foraging, interacting with golden eagles and skirmishing with crows.
Jim is an advocate of releasing wolves into the wild once again. He asserts the danger to humans is so infinitessimally small that it is not statistically measurable, but on the other hand we seem willing to tolerate the recurring deaths of our children from our own pet dogs. This subject is contentious, as witnessed by questions he received on the safety of farm and estate animals. However, Jim's zeal remained undimmed, quoting: "We learn about and understand other creatures only by living with them, not by taking the word of the loud mouths and small minds of those vested interests who would shout us down and have us believe that Scotland cannot accommodate those creatures their predecessors cleared from the land. Scotland can. The land can and the people can. We learn by living with them. We make adjustments and so do they".
Jim was appreciatively received by an audience who recognised his patient fieldwork, eye for detail, gifted writing and his passion for his subject.
Club vice-president Lawrence Read brought an excellent afternoon to a close with a spirited vote of thanks for the efforts of the organisers, the commanding performances of all the presenters, and the very supportive audience.
All photographs courtesy of Elliott Boyle, Perth Burns Club.
Email Elliott if you'd like a copy of a photograph.