St Andrew's Day
A day of Scottish life and culture
| 2021 | 2019 | 2018 | 2017 | 2016 | 2015 | 2014 | 2013 | 2012 | 2011 | 2010 | 2009 | 2008 |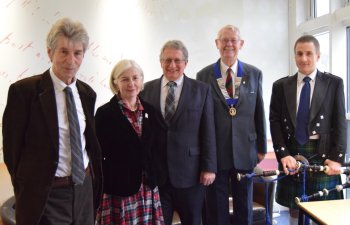 Presenters, chairman and piper gather beforehand. Left to right: Andrew Clegg, Lady Deborah Stewartby, Andy Hall, Lawrence Read [president], Martin Bristow [piper].
Perth's main celebration of St Andrew's Day, the twelfth Perth Burns Club's annual Day of Scottish Life and Culture, was held in the Soutar Theatre at the A. K. Bell Library, York Place, Perth on Saturday, November 28th, 2015.
Once again the occasion lived up to its reputation of high-quality presentations, and the audience of 45 left well-satisfied after an educational and entertaining afternoon programme. An engaging feature was the ability of the speakers to interweave threads in each other's material.
Principal Speakers
After being piped in by Martin Bristow, the audience was welcomed by club president and chairman for the day, Lawrence Read, who had expected Provost Liz Grant to give the opening address. However, club secretary Iain Mackintosh had received news that she had suffered a minor accident at an earlier function in Methven Castle, and would be unable to attend. Iain passed on the Provost's thanks to Perth Burns Club for organising the day, and her best wishes to all attending for a successful and enjoyable event.
The first presenter was Andrew Clegg who covered "The Speak of the Mearns", reflecting on Lewis Grassick Gibbon (real name James Leslie Mitchell) and his Scots Quair trilogy of Sunset Song, Cloud Howe and Grey Granite.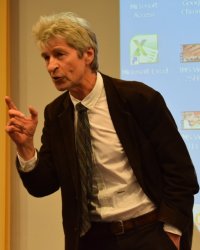 Andrew Clegg
The central character of the trilogy is Chris Guthrie, a young woman growing up in a farming family in the fictional estate of Kinraddie amid the red clays of the Mearns in Kincardineshire. Chris has to face many challenges: her mother kills herself and her year-old twins when she discovers she is pregnant yet again; she loses brothers Dod and Alec; another brother, Will, departs after violence and confrontation with his father; her father stubbornly refuses to adopt new farming methods, takes strokes, attempts incest, then dies; Chris decides to stay on the land after wrestling with the prospect of books and teaching; she marries Ewan, a Highland incomer, who transforms the Blawearie croft with new methods, volunteers in the 1914-18 War and is shot as a deserter, leaving Chris with a young son. All this and more in just the first volume!
Andrew examined further aspects of Chris's story, including her re-marrying the Rev Robert Colquhoun; her views on religion and Robert's Christian socialism; her son Ewan's immersion in communism; the end of the old ways on the land; the loss of old songs to American music; and her relationship with the Blawearie standing stones. However, the central concept of the Quair is that only the ever-changing land can endure, and only Chris, who is simultaneously connected to the land and distanced from it, fully realises this. Thoughout the trilogy, the omnipresent Mearns exerts its influence and the lyrical use of the rhythms, cadences and lilts of its Doric language make it a beautiful work.
Andrew postulated that Gibbon's portrayal of Chris is unique in European literature by being so complete and convincing. Other male authors who have spoken through female characters achieved partial success (e.g. Flaubert's Madame Bovary and Dickens' Little Dorrit), but nothing on the scale of Gibbon's achievement. Speaking without notes, Andrew's own lyrical delivery ensured that the afternoon got off to a compelling start.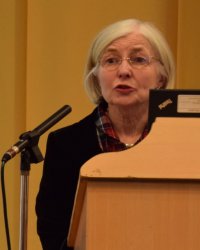 Lady Deborah Stewartby
Lady Deborah Stewartby is the granddaughter of John Buchan and lives in his motherís house in Broughton. Her subject was "John Buchan ~ from 39 Steps to Governor General ~ the years in between". Buchan was born in a Free Church manse in York Place, Perth in 1875. After only 4 months, the family moved to Kirkcaldy where he grew up. In Glasgow he worked with slum children on whom the Gorbals Diehards were based; was educated at Hutchesons' Grammar School and won a scholarship at 17 to Glasgow University to study Classics. In 1895 he moved to Brasenose College Oxford to continue Classics, winning essay and poetry prizes and being elected president of the Oxford Union.
After Oxford, Buchan began his diplomatic career as private secretary to Alfred Milner in South Africa, became a partner in Nelson's Publishing in Edinburgh, became editor of the Spectator, read law and was called to the bar (though did not practise). He married Susan Grosvenor in 1907 and went on to have 4 children. In the First World War, he served in Propaganda, Intelligence and Information roles, and also wrote a monthly account of the War, later published by Nelson in 24 volumes.
In 1927, Buchan was elected Unionist MP for the Combined Scottish Universities, a relatively easy seat with no electioneering requirements. In 1933-34, he was appointed Lord High Commissioner to the General Assembly of the Church of Scotland. In 1935, he was elevated to the peerage as Baron Tweedsmuir of Elsfield in the County of Oxford - this to enable him to serve as Governor General of Canada. Buchan travelled extensively to develop a sense of Canadian unity, organised a British royal tour and assisted in Canadian and US participation in the Second World War. In 1940, he suffered a severe head injury when he fell after suffering a stroke and did not respond to surgery. His remains were returned to the UK on a British destroyer and interred in Elsfield.
Buchan's adventure novels began in 1910 with Prester John, and in 1915 came The 39 Steps, his most famous. Deborah supplied some anecdotes on the location of the 39 Steps - the family version is Broadstairs in Kent, where Buchan was recuperating from illness, but other variants include the Thames steps to Lambeth Palace and the Big Ben clocktower. Greenmantle and Mr Standfast quickly followed. Historical accounts such as Sir Walter Scott (1932) also figured, and Deborah included a short audio of Buchan's summary of Scott's writing style. Buchan's prolific output (over 100 titles, 40 of these fiction) was ascribed to his tremendous powers of concentration - children were allowed to play, but not to speak, in his study.
Deborah concluded her talk by describing her fund-raising and organisational contributions to the new John Buchan Story Museum in Peebles, visited by the Queen in 2013. Her inspirational grandfather certainly packed a huge number of achievements into his lifetime!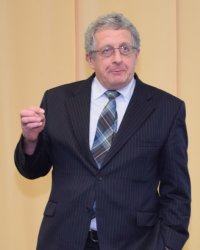 Andy Hall
The final presentation of the day was provided by photographer Andy Hall, who spoke on "Scotland's Still Light", his book which was first published in 2014. Born in Perth, Andy is now resident in Stonehaven - the northern margin of the Mearns described earlier.
Andy's previous books have sought to combine landscape and people: A Sense of Belonging to Scotland asked some much-loved personalities to describe parts of Scotland dear to them while Andy provided the visuals. Further Journeys provided a sequel. Touched by Robert Burns invited 66 well-known people to say how the works of Burns have touched their lives, again illustrated by Andy's images. Scotland's Still Light drew its inspiration from Edwin Muir's poem Childhood recalled by Andy on a visit to Calgary Beach on Mull:

In thought he saw the still light on the sand,
The shallow water clear in tranquil air,
And walked through it in joy from strand to strand.
The quality of light in Scotland's land and cityscapes thus became the theme which was to relate Andy's photographs to the words of some of Scotland's most respected writers.
Andy described how he compiled each entry in the book. Sometimes the writer's lines sparked a search for a location and vantage point; sometimes the reverse applied as an image prompted a literary recollection - a whole poem, a prose extract, maybe just a line.
The wordsmiths featured in the book include George Mackay Brown, Norman MacCaig, Alasdair Gray, Alan Riach, Robin Jenkins, Myles Campbell, Lewis Grassick Gibbon, Robert Louis Stevenson, Edwin Morgan, John Buchan, John Muir, Sorley MacLean, Angus Peter Campbell, Helen Lamb, Liz Lochhead, Edwin Muir, Violet Jacob, John Burnside, Cordelia Oliver, Kenneth Steven, Robert Burns, Alexander Gray, Margaret Oliphant, Kathleen Raine, Iain Crichton Smith, Jim Crumley, Marion Angus, Nan Shepherd, Sir Walter Scott, William Soutar and Hugh MacDiarmid.
The closing section of Andy's presentation featured a slide show of many of the entries, with three accompanying audio tracks by fiddler and composer Duncan Chisholm of Inverness. The words, images and melodies blended to make a highly evocative conclusion.
Club president Lawrence Read brought a superb afternoon to a close with a well-rounded vote of thanks for the efforts of the organisers, the excellent performances of all the presenters, and the very appreciative audience.
All photographs courtesy of Elliott Boyle, Perth Burns Club.
Email Elliott if you'd like a copy of a photograph.