Burns in Perth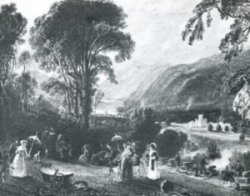 Kenmore and Taymouth Castle
The only occasion that Robert Burns visited Perth was towards the end of his 22-day tour of the Highlands during August and September, 1787.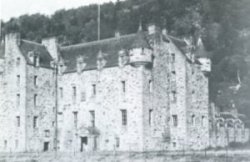 Castle Menzies, home of Sir John Menzies
Burns and his travelling companion, William Nicol the Edinburgh High School classics master, had travelled by post-chaise through the heart of the Highlands, reached Inverness and returned by the East coast - 600 miles in all.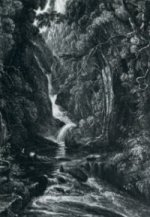 Birks of Aberfeldy, engraving by W. Richardson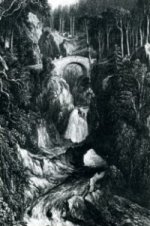 Bruar water and lower falls
Burns's brief but graphic journal of the tour tells of visiting Crieff, Taymouth [Kenmore], Castle Menzies, Aberfeldy, Inver, Dunkeld, Blair Atholl and Bruar where he wrote "The Humble Petition of Bruar Water".
Interestingly, The chair used by Burns during his visit to the Taymouth Inn [now the Kenmore Hotel] is on permanent display in Perth Museum and Art Gallery and the verses which he wrote on the chimney piece of the inn are preserved at the hotel to this day.
At Inver, Burns met Niel Gow the famed Scottish fiddler and wrote in his diary "Niel Gow plays – a short, stout-built, honest highland figure, with his grayish hair shed on his honest social brow - an interesting face, marking strong sense, kind open-heartedness mixed with unmistrusting simplicity – visit his house – Marget Gow".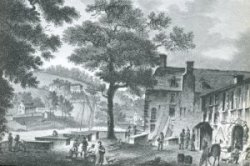 An old print of Perth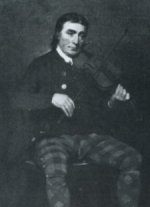 Niel Gow, fiddler, 1727-1807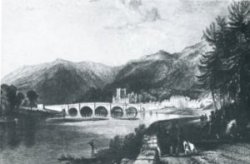 Thomas Allom's view of Dunkeld
Burns also wrote fondly of his stay at Athole House [Blair Castle] saying afterwards that two of the happiest days of his life were spent there. It was at Blair Atholl that Burns met Robert Graham of Fintry who was to prove a best friend in later years.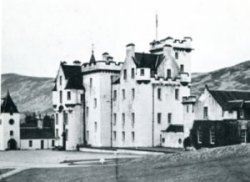 Blair Castle, seat of the Dukes of Atholl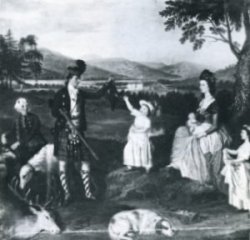 John Murray, 4th Duke of Atholl, 1755-1830
On Friday, September 14, 1787 Robert Burns, to quote from his journal, came "through the rich harvests and fine hedge-rows of the Carse of Gowrie, along the romantic margin of the Grampian hills to Perth".
That early, brief entry in his diary was later extended and printed in his works - "Perth – Scoon - picture of the Chevalier and his sister - Queen Mary's bed, the hangings wrought with her own hands - fine, fruitful, hilly, woody country round Perth – Taybridge - Mr and Mrs Hastings - Major Scott - Castle Gowrie".
We wish he had told us more about his one night in the Fair City. We know that he stayed at Croom's Tavern in the High Street with the proprietors Mr and Mrs Croom, the parents of the Rev D. M. Croom of Lauriston Place Church, Edinburgh.
The Perth Crooms knew all about their distinguished guest as the Ayrshire poet and satirist who had astonished the "big folk in Auld Reekie" by his strapping figure, his noble head, his dazzling black eyes and his matchless conversation.
Robert Burns's travelling companion, William Nicol, has been described as a "court jester, a tap-room philosopher. a crapulous and ill-natured ruffian". He must have had some good points but old Croom, the Perth vintner, noted and subsequently told his clerical son that Nicol looked sulky, seldom spoke and appeared annoyed at the free and full rush of language from the Poet's lips as he dilated upon the Tay, the view from Perth Bridge of the North Inch and the hills, and other subjects. The Crooms remembered that Burns's table talk seemed altogether extraordinary in its strength, insight, humour and range.
Burns is reputed to have consumed a baker's dozen of Perth pies washed down with draughts of mild porter but the Crooms remarked that, unlike William Nicol, he tasted nothing stronger. One would prize a recording of Robert Burns during that one-night stay at the High Street tavern. So keen a critic as Principal Robertson who knew and conversed with Tobias Smollett, Adam Smith, David Hume and many other eminent men and women, has said that the conversation of Robert Burns was even more wonderful than any of his poems that autumnal evening at Croom's change house "when the candles were brought forth and the night was fairly setting in".
Burns was the magnetic centre of attraction. They listened to the young man, eloquent, shedding his prophetic soul in melodious speed as if spell-bound. It was, as Croom affirmed, "a most superior occasion", a rich intellectual treat edifying and stimulating the listeners. To ocularly see so true a Man and Poet as Robert Burns and to hear him talk with snatches of human portraiture, of the men and women he had met on the wide stage of life, speaking with energy, his glowing eyes flashing round the circle of eager and intent admirers, was worth much to these 18th century Perth citizens.

Burns plaque in Perth. The inscription reads "Robert Burns visited Perth 14th-15th Sept 1787 and stayed at Croom's Tavern, High Street. Building in close - left-hand side
The minister of Lauriston Parish Church was proud, as were also his distinguished sons - the The Rev D. B. Croom of St Luke's Church, Montrose and Professor Sir J. Halliday Croom of Edinburgh University - of Robert Burns being for one classic night in their relative's modest but cosy Perth hostelry. The memory of it recalled innocent glee, sparkling swift wit, winsome humour, candour and untrammelled sense.
The site of Crooms Tavern is now marked by a bronze plaque above the doorway at 186 High Street and was restored by Perth Burns Club in 1992.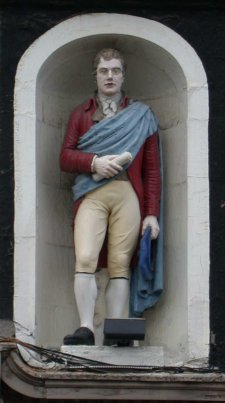 Burns statue in Perth
The following morning, Saturday, September 15, Robert Burns left Perth and travelled to Invermay, near Forteviot where he dined with the Belches family. His journal entry reads – "Leave Perth, Saturday morn – come up Strathearn to Endermay to dine – fine fruitful cultivated Strath – the scene of 'Bessy Bell and Mary Gray' near Perth – fine scenery on the banks of the May – Mrs Belches, gawcie, frank, affable, fond of rural sports, hunting, and – Miss Stirling, her sister". [On a personal note, the aforesaid Mrs Belches and her sister Miss Stirling were ancestors of mine – my great grandmother Eliza Stirling [Eliza Mackintosh] and my great aunt Ann Stirling being from the same family, the Stirlings of Keir near Dunblane].
From Invermay, Burns and Nicol journeyed over the Ochil Hills to an overnight stay at Kinross before returning to Edinburgh the following day.
There is a notable piece of Robert Burns memorabilia in County Place, Perth where a painted statue is situated in an alcove above the Robert Burns Lounge Bar. The statue was created in 1854 by William Anderson, son of David Anderson, 'the Perthshire artist', who placed the statue on the outside of what was at that time his own residence. Shortly after the statue was completed, William Anderson took it from County Place to a garden in North Methven Street and it remained there until 1886 when it was removed to the home of John Henderson, a photographer, at 1 Albert Place. Finally, a Burns enthusiast returned the statue to County Place and had a niche made to accommodate it above an establishment which, in its time has been named the Argyll Bar, the Burns Bar, The Cherrys and the Robert Burns Lounge.
Donald N. M. Paton, Secretary