St Andrew's Day
A day of Scottish life and culture
| 2021 | 2019 | 2018 | 2017 | 2016 | 2015 | 2014 | 2013 | 2012 | 2011 | 2010 | 2009 | 2008 |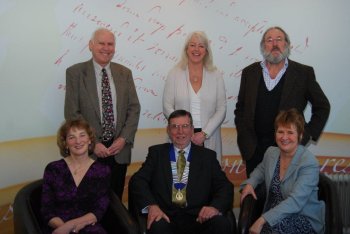 The presenters at the afternoon session. Back row, left to right: Iain Mackintosh [vice-president], Lesley Riddoch, Timothy Neat. Front row, left to right: Professor Marjory Harper, Ian Bett [president], Roseanna Cunningham MSP.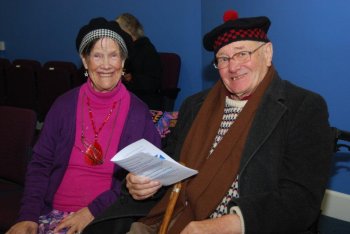 Ruth and David Lumsden, ever-presents at the annual Day of Culture, take their seats.
Perth's main celebration of St Andrew's Day, the ninth Perth Burns Club's annual Day of Scottish Life and Culture, was held in the Soutar Theatre at the A. K.Bell Library, York Place, Perth on Saturday, December 1, 2012.
The quality and diversity of presenters and performers has enhanced the reputation of this event, and an audience of 75 was well entertained by a thought-provoking afternoon programme, and a further 100 fully enjoyed the evening concert.
Afternoon Programme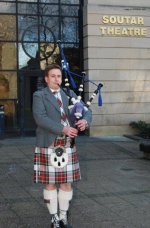 Martin demonstrates that many are cauld but few are frozen.
After being piped in by Martin Bristow, the company was welcomed by club president Ian Bett, who handed over to Bill Dawson to chair the proceedings.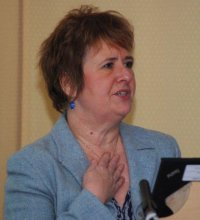 Roseanna Cunningham
Roseanna Cunningham MSP, Minister for Community Safety and Legal Affairs, gave a spirited opening address, commending the Burns Club for its initiative and challenging others to drop "cannae, winnae" attitudes and take positive steps to celebrate the things that make us distinctive.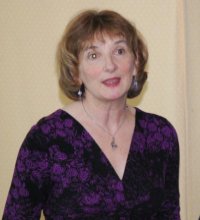 Marjory Harper
The first presenter was Professor Marjory Harper whose book "Scotland No More?" has just been published. It deals with the emigration of Scots during the 20th century and her talk focused on the two post-war periods when the stimulus of finding a new and better life prompted people to head for Canada, New Zealand and sundry destinations. Marjory featured many audio interviews with emigrants, providing colourful and often moving accounts of their individual and community experiences. Hebridean voices provided the richest lilt, while the central belt numbers dominated the statistics. Marjory's analytical conclusion was that the desire for betterment was the prevailing motivator, underpinned by personal attributes and circumstances. Most of the audience could identify directly with the subject matter, and so the afternoon began in stimulating fashion.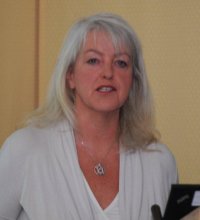 Lesley Riddoch
Lesley Riddoch presented the second item of the day, questioning whether Scotland might be better as a southern dimension of the Nordic world. Her Caithness roots contain strong Nordic DNA, and she's been making a personal journey to identify where we have similarities and, more importantly, where we differ and what we can learn to do better. We certainly share plenty of geography, history, language and culture but there are significant departures in other areas like land ownership, active economic development of remote areas and highly decentralised local authorities. Harnessing independent spirit through independent action was a theme, while the earlier messages of challenging the status quo and taking positive action to improve our quality of life resonated here also. Speaking from slides rather than notes, Lesley gave an extremely polished and persuasive presentation.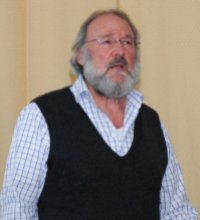 Timothy Neat
The final item of the afternoon was provided by Timothy Neat, who read some verse before introducing an extract from his film "The Tree of Liberty". Timothy was the biographer of Hamish Henderson, the radical poet and song collector, and the film featured a collaboration between Henderson and the American composer Serge Hovey to arrange Burns' songs in new musical settings. Jean Redpath sang them like a lintie and also helped to communicate movingly with the composer as he lay stricken on his sickbed. Alas, time didn't permit the full screening of the film, but we'll try to include it in a forthcoming club night. This is the kind of material that BBC Scotland should be screening much more often than it does. Great stuff, and a fine ending to a highly enjoyable afternoon.
Club vice-president Iain Mackintosh brought the session to a close with a vote of thanks for the club committee (particularly Bill Dawson, Donald Paton and the indefatigable Elliott Boyle), the excellent performances of all the presenters, and the most appreciative audience.
Evening Concert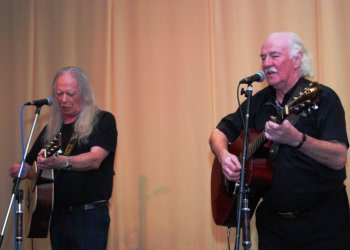 Gaberlunzie
Our usual compere George McDiarmid was indisposed through illness, which gave club president Ian Bett the opportunity to kick off the evening with his highly individual stand-up routine. No bad for an Abernethy man...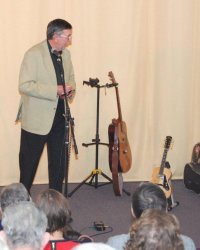 Ian Bett
Ian then introduced Gaberlunzie, aka Robin Watson and Gordon Menzies. The Gabs have been on the go for 40+ years now, but time hasn't diminished their ability to entertain and the capacity audience was treated to a range of fine songs interspersed with their trademark humour.
Their material included works by Burns, Dougie MacLean and Lonnie Donegan, a number of self-penned pieces and a big repertoire of traditional airs, both sung and played as instrumentals.
Gordon's patter kept the crowd laughing throughout and suffice to say there are a number of goings-on in Milnathort and darkest Fife that are better kept undocumented.
An excellent concert and another tremendous day all round!
All photographs courtesy of Elliott Boyle, Perth Burns Club.
Email Elliott if you'd like a copy of a photograph.