St Andrew's Day
A day of Scottish life and culture
| 2021 | 2019 | 2018 | 2017 | 2016 | 2015 | 2014 | 2013 | 2012 | 2011 | 2010 | 2009 | 2008 |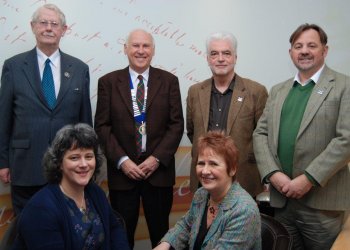 The presenters on St Andrew's Day. Back row, left to right: Lawrence Read [vice-president], Iain Mackintosh [president], Billy Kay, Rab Wilson. Front row, left to right: Dr Kirsteen McCue, Roseanna Cunningham MSP.
Perth's main celebration of St Andrew's Day, the tenth Perth Burns Club's annual Day of Scottish Life and Culture, was held in the Soutar Theatre at the A. K.Bell Library, York Place, Perth on Saturday, November 30th, 2013.
This year's presenters fully maintained the high-quality reputation of this event, and an audience of 50+ was well informed and entertained by the afternoon programme.
Principal Speakers
After being piped in by Martin Bristow, the company was welcomed by club president Iain Mackintosh, who invited Roseanna Cunningham to give her opening address slightly earlier than planned, due to the pressing needs of the tragic Glasgow helicopter crash the night before.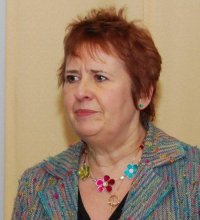 Roseanna Cunningham
The MSP and Minister for Community Safety and Legal Affairs congratulated the Burns Club on reaching the 10th anniversary of this event on a day when Scots across the world come together, be it in celebration or sorrow. Looking forward, she praised the democratic process which has led to the Referendum, allowing Scots to make their choice of futures without recourse to upheaval or violence.
Following Roseanna's departure to Glasgow, Iain then handed over to past president of both the Perth Club and World Federation, Bill Dawson, to chair the proceedings.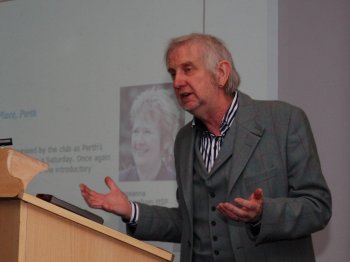 Bill Dawson
The first presenter was Billy Kay who covered the "The Eastland Diaspora" - connections between Scotland and the countries around the Baltic Sea such as Poland, Prussia and Denmark. In the 17th century when this migration was at its height, Scots literacy was second only to Sweden, and we know about their lives in the Eastlands through diaries and notes as well as the oral tradition.
Leaving from Dundee, Aberdeen and Leith, Scots went to earn money as merchants and mercenaries, and thousands of teenage boys became pedlars selling pins, linen and other cheap goods all around Germany and Poland and the Hanseatic ports on the Baltic coast.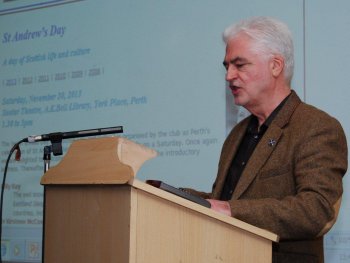 Billy Kay
Scots traded in timber, fish, grain and iron with Scandinavian countries; at that time it was easier to go by sea to Scandinavia than overland to London.
Many Scots settled there and married, adapting their names to the local language. Others acquired fame and wealth and many exerted their influence back in Scotland. General Patrick Gordon, a soldier of fortune, became prominent in the Russian court. Robert Gordon (a Danzig merchant) founded the Aberdeen college which bears his name. Cragievar Castle was built by William Forbes (Danzig Willie), another merchant.
Billy's talk contained numerous audio clips where descendants recalled their forebears. Humorous anecdotes were liberally strewn, including the lugless lads of Lanarkshire, Inverurie reunions in the Ukraine, and the use of the German word Schotte to interchangeably mean pedlar, Scot, or bogeyman. A most engaging and enjoyable start to the programme.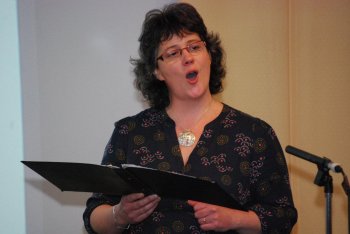 Dr Kirsteen McCue
Dr Kirsteen McCue majored on "The Songs of James Hogg, The Ettrick Shepherd", a project which was awarded a research grant of just over £150,000 from the Arts and Humanities Research Council (2005-08). The self-educated Hogg was a prolific writer of songs (around 500, more than the Burns collection), as well as his poems, essays, plays and novels.
In 1801 Hogg was recruited to collect ballads for Walter Scott's collection The Minstrelsy of the Scottish Border, and although he met other contemporaries such as John Galt and Allan Cunningham, he only learned of Burns' work after his death.
Kirsteen touched on Hogg's sizeable ego (though he was disarmingly honest about it, it led to some fanciful claims like memorising Tam o Shanter after a single hearing!), his chequered personal life, his impecunious financial affairs, and the ebb and flow of relations with his Edinburgh and London publishers, other writers and critics.
Kirsteen sang three of Hogg's works: Donald M'Donald, the song Hogg claimed to be his very first and possibly his most famous (celebrating the prowess of the Highland warriors in the light of a possible invasion by Napoleon and his troops); When Maggy Gangs Away, set by Sir Henry Rowley Bishop to the tune 'I'll gae nae mair to yon toun' (already known with Burns's 'I'll ay ca' in by yon toun'); and The Lament of Flora McDonald, one of Hogg's most popular Jacobite songs, with the tune and its arrangement written by Niel Gow junior. Accompanying Kirsteen on piano was David Hamilton, who teaches at the Royal Conservatoire of Scotland in Glasgow and the Music School of Douglas Academy.
Kirsteen amply demonstrated her prowess as researcher, storyteller and musician in this delightful session.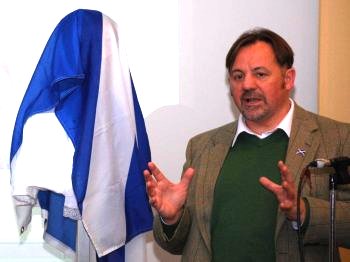 Rab Wilson with the veiled Burns' heid
The final presentation of the day was provided by poet Rab Wilson, who posed the question "What did Robert Burns really look like?", then set about trying to find out. The Naismith portrait, the Reid miniature and the Miers silhouette were the established likenesses, but how much of them was artistic impression and how much hard fact? STV provided funding for the project, which resulted in a documentary film, In Search of Robert Burns, being screened in January 2013.
Rab played the film, which was narrated by actor and Burns enthusiast David Hayman, and looked into how Burns' upbringing, education, tough life and romantic spirit moulded the creative genius that transformed him from farmer to globally renowned poet. The storyline was supported by attractive camerawork and a series of interviews with local worthies and Burns authorities, including Rab himself and a certain Kirsteen McCue.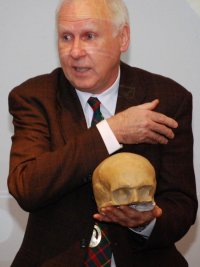 Iain Mackintosh with Burns' skull cast
Behind the scenes of the documentary, Professor Caroline Wilkinson and her team at the University of Dundee were using state-of-the-art forensic technology to reconstruct Burns' head from a partial skull cast taken at the exhumation of the Bard's body in Dumfries on March 31, 1834. The Perth Club also has a copy of this cast (you can read more on our About page), and Iain Mackintosh presented this to the audience.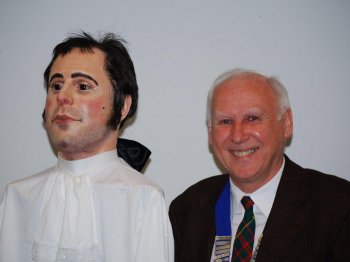 Iain Mackintosh with the unveiled Burns' heid
Once unveiled, Rab described the reconstructed head as larger and fuller featured than the more romantic impressions people are used to. He quoted Walter Scott, who wrote after his meeting with Burns that the poet's head was bigger than expected, and his eyes were alive and riveting. The new likeness is closer to the Miers silhouette than the portraits, and seems more consistent with the build of a farmer combined with the inner spirit which burned so bright. The audience were keen to see cast and head in close-up, and the day finished with people adding to their family photo albums on stage.
Club vice-president Lawrence Read brought a thoroughly enjoyable afternoon to a close with a vote of thanks for the Library venue, the Club committee (particularly Bill Dawson, Donald Paton and the hyperactive Elliott Boyle), the excellent performances of all the presenters, and the most attentive audience.
All photographs courtesy of Elliott Boyle, Perth Burns Club.
Email Elliott if you'd like a copy of a photograph.