St Andrew's Day
A day of Scottish life and culture
| 2021 | 2019 | 2018 | 2017 | 2016 | 2015 | 2014 | 2013 | 2012 | 2011 | 2010 | 2009 | 2008 |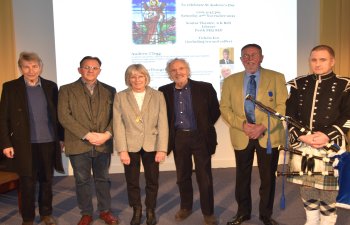 Presenters, officials and piper gather beforehand. Left to right: Andrew Clegg, Rab Wilson, Kathleen Baird [Deputy Provost], Carl MacDougall, Ian Bett [chairman], Martin Bristow [piper].
Perth's main celebration of St Andrew's Day, the sixteenth Perth Burns Club's annual Day of Scottish Life and Culture, was held in the Soutar Theatre at the A. K. Bell Library, York Place, Perth on Saturday, November 27th, 2021.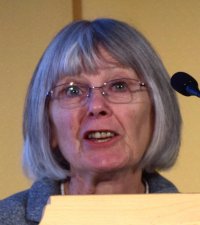 Kathleen Baird
Once more, the event maintained its reputation for high quality, and the audience was treated to a thoroughly entertaining and diverse, programme.
After being piped in by Martin Bristow, the audience was welcomed by past president and chairman for the day, Ian Bett. Ian introduced Kathleen Baird, Deputy Provost of Perth & Kinross, who gave a short opening address emphasising PKC's support for organisations and events which encourage cultural advancement.
Principal Speakers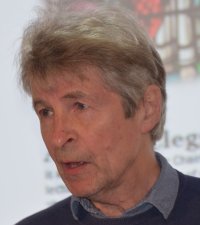 Andrew Clegg
First on the podium was Andrew Clegg who provided a scintillating and expressive account of "Burns the Song-catcher". Burns' role as well as writing songs and poems was one of collecting, improving and cataloguing songs of the Scottish people. This was to prevent them being lost to Scotland as it was not too long after the 1707 Union of the Parliaments, and Scottish language, songs and culture were in great danger of disappearing forever.
Burns never accepted payment for these song reworkings and collections and was indignant when offered, emphasising that this was for the good of the Scottish people.
Andrew made special reference to several well known Burns songs including "Auld Lang Syne", "My Luve is like a Red Red Rose" and "O wert Thou in the Cauld Blast", showing how Burns improved the original rough lyrics, often developing secondary themes, resulting in the the classic words and tunes we know today.
Andrew also made a point that Jean Armour, Burns' wife, played a hugely significant but unrecognised role in these song collections, often acting as the sounding board for his reworkings and embellishments.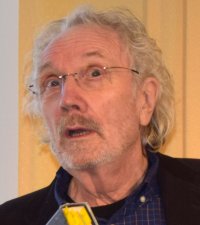 Carl Macdougall
Next up was Carl MacDougall who is a novelist, short story writer, and anthologist. He is President of Scottish PEN, and an Honorary Fellow of the Association for Scottish Literary Studies. His talk was on "Scottish Short Stories", many drawn from his book "The Devil and the Giro". Robert McLellan, Muriel Spark, Eona Macnicol, Bernard McLaverty, Elpeth Davie, Muriel Spark, Brian McCabe and Dorothy Haynes were just some of writers who were showcased in Carl's address.
Carl entertained us with contrasting voices and storylines from selected writers over two centuries. The oral tradition began largely to entertain, but the storytelling developed to include relections on working and family life, conflict, social observations, humour, love, poverty - the broad tapestry of life, and an important record of our life and culture.
Carl's presentation was both thoughtful and stylish and he responded to various audience questions with illuminating and informative answers.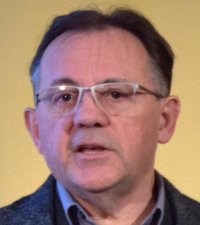 Rab Wilson
Our final speaker was Rab Wilson, one of Scotland's most accomplished poets. He is the author of a number of highly praised volumes of poetry, and scriever in residence at the Robert Burns Birthplace Museum in Alloway. Rab's talk and Powerpoint presentation featured his cosmic collaboration with the late Astronomer Royal, Prof John Brown, "Oor Big Braw Cosmos".
Rab explained that the late professor was a man of huge intellect and lover of the Scots language, who insisted that his powerful illustrations and photographs in the book be accompanied by poems and words in the Scots language. Rab took up the challenge and has provided a significant body of poems to accompany the beautiful graphics.
He also touched on the major Scottish players across Scottish astronomy's long history, including Mary Somerville and James Clerk Maxwell. Mary's name has 14 characters, so Rab wrote a sonnet in praise of her, each line starting with a letter of her name. James had a less convenient moniker, but ranks with Newton and Einstein having discovered the laws of electromagnetism. They and many others from neolithic times to the present have been major influences in exploring our earth and its cosmic connections.
The book is illustrated with a huge range of plates, covering historical and modern art, space mission and observatory photographs, plus plates and engravings of the major names in astronomy. A very fine production by Luath Press of Edinburgh.
Club secretary Elliott Boyle brought a superb afternoon to a close with a well-rounded vote of thanks for the efforts of the organisers, the excellent performances of all the presenters, and the very appreciative audience.
All photographs courtesy of Elliott Boyle, Perth Burns Club.
Email Elliott if you'd like a copy of a photograph.