St Andrew's Day
A day of Scottish life and culture
| 2021 | 2019 | 2018 | 2017 | 2016 | 2015 | 2014 | 2013 | 2012 | 2011 | 2010 | 2009 | 2008 |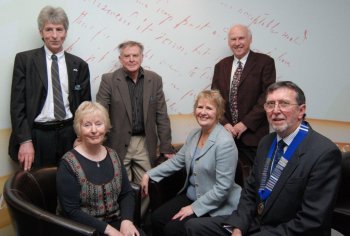 The presenters at the afternoon session. Back row, left to right: Andrew Clegg, Douglas Eadie, Iain Mackintosh [vice-president and vote of thanks]. Front row, left to right: Anna Hepburn, Roseanna Cunningham MSP, Ian Bett [president and chairman].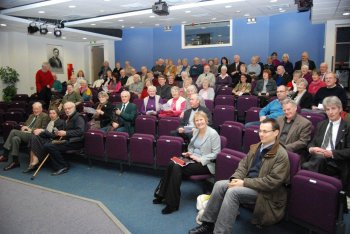 The audience gathers for the afternoon session in the Soutar Theatre.
Perth's main celebration of St Andrew's Day, the eighth Perth Burns Club's annual Day of Scottish Life and Culture, was held in the Soutar Theatre at the A. K.Bell Library, York Place, Perth on Saturday, November 26, 2011.
Despite gales and driving rain outside, the large audience was handsomely entertained by a richly varied afternoon programme followed by a delightful concert of music and song in the evening.
Afternoon Programme
After being piped in by Martin Bristow, the company was welcomed by club president Ian Bett, who also acted as chairman for the proceedings.
Roseanna Cunningham MSP, Minister for Community Safety and Legal Affairs, gave the opening address in spirited fashion and emphasised the commitment of the Scottish Government to have its ministers and officials attend St Andrew's Day celebrations in person throughout the country. The Government is also pledged to introduce Scottish Studies into the school curriculum to foster our distinctive culture.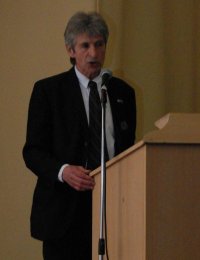 Andrew Clegg
The first presenter was club member Andrew Clegg whose subject was "Other Voices in the Wind" - a new and fresh look at Burns' epic poem, "Tam o' Shanter". Andrew demonstrated his mastery of the Burns canon with an insightful look at how contemporary events and writers influenced the drafting of the work, and suggested that three distinctive voices were interwoven with the narrative - faery, female and penitent. His well argued examples and persuasive delivery got the afternoon off to a stimulating start.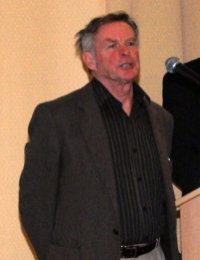 Douglas Eadie
Douglas Eadie introduced the second item of the day, "Norman McCaig Fishing for Poetry", his film on the life of one of Scotland's leading 20th century poets. This was beautifully produced and featured an expedition made by Aly Bain, Billy Connolly and Andrew Greig to the Loch of the Green Corrie in Assynt, McCaig's favourite fishing spot. Their reminiscences and banter were interspersed with readings of McCaig's works from many of his admirers. The film was so engaging and humorous that the intrepid trio didn't seem to mind catching no fish!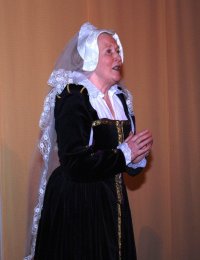 Anna Hepburn
The final item of the afternoon was "Mary Queen of Scots: The Last Letter", a one-woman play written and performed by Anna Hepburn which received wide acclaim at the 2010 Edinburgh Festival.
Anna's superb and moving performance told Mary's story from first to last, wrought with emotion - naive, wilful, headstrong, stubborn, passionate, betrayed, abandoned, resigned and despatched. Many historians would mark Mary as wholly complicit in her own tragedy, but here was a plea for understanding and vindication. Great stuff.
Club vice-president Iain Mackintosh brought the afternoon to a close with a vote of thanks for the club committee (particularly Elliott Boyle and Donald Paton), the theatre facilities and staff, the excellent performances of all the presenters, and the most appreciative audience.
Evening Concert
Caroline Anderson, Moira Avraam and Sibbi Laing, the Silver Darlings in action.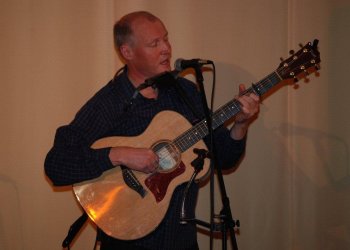 Jim Malcolm
After club member and compere George McDiarmid's community singing introduction, the Edinburgh-based Silver Darlings got the evening under way with their close harmonies and beautiful a cappella singing style. Their material is rooted in folk music, including songs by Burns, Tannahill and MacColl, finishing with the 1920s classic Ain't No Sweet Man Worth The Salt Of My Tears. They were well worth the generous applause they received (and passing round the Quality Street tin also took a trick with the calorie-indifferent Perth audience).
Jim Malcolm, Scotland's leading folk singer and song writer, topped the bill after returning from his tour of the USA. Jim is an all-round entertainer, with his mellow vocals, guitar and harmonica playing, anecdote-telling and well-crafted song-writing.
He was in great form, featuring many of his own compositions (some from his recent "Sparkling Flash" CD), and also incorporating Burns songs and Soutar's Hal o the Wynd, first sung in this theatre.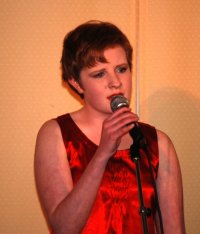 Beth Malcolm
Jim's daughter Beth made a notable contribution to proceedings, harmonising with dad and going solo with Neptune. She has a lovely voice with a catch that Caroline Anderson reckons will move hearts.
Beth's birthday is November 30, so the evening concluded with a mass chorus of Happy Birthday followed by Auld Lang Syne. An excellent concert and a superb day all round!
All photographs courtesy of Elliott Boyle, Perth Burns Club.