Annual Dinners
| 2022 | 2020 | 2019 | 2018 | 2017 | 2016 | 2015 | 2014 | 2013 | 2012 | 2011 | 2010 | 2009 |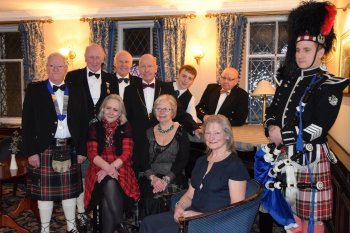 Members of the top table group. Back row [l to r] Club President Stewart MacDougall, Donald Paton, Iain Mackintosh, Willie Wilson, Connor Fry, Jim Allan. Front row [l to r] Joan McEwen, Joan Allan, Sandra MacDougall, Piper Martin Bristow.
This year marked the retirement of piper Bob Hamilton who had completed 20 consecutive years of service to the Club in 2018. Bob received a presentation of whisky and engraved glasses from president Stewart MacDougall.
One of Perth's most acclaimed social occasions, the Annual Dinner of the Perth Burns Club, was held in the Salutation Hotel, Perth on Saturday, January 26, 2019. It attracted a gathering of around 115 members and guests. Once again the function lived up to its reputation of being one of the country's foremost mixed Burns Nights with an outstanding programme of excellent speakers and performers.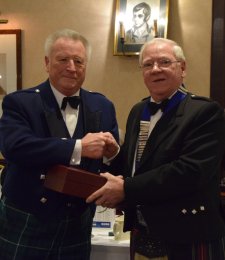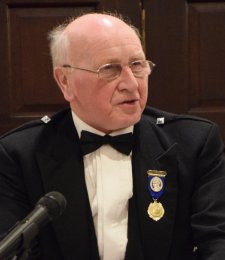 The principal speaker, Donald Paton, FSA (Scot), proposing the Immortal Memory.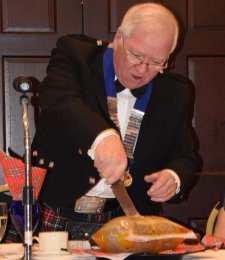 Club president Stewart MacDougall addressing the haggis.


The Immortal Memory was proposed by Donald Paton, President of The Burns Club of Vancouver and Honorary Life President of The Perth Burns Club. Donald's humorous and stirring address extolled the work of Burns in promoting Scottish identity, language and traditional culture.
Club president Stewart MacDougall chaired the evening and gave a rousing address to the haggis to set proceedings in motion. Stewart also proposed the Loyal Toast.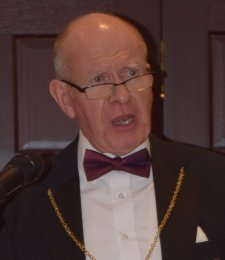 Depute Provost Willie Wilson proposing the toast to The Lasses.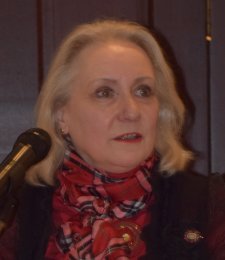 Former Councillor Joan McEwen delivering the reply for The Lasses.




Depute Provost Willie Wilson mused over words and phrases the Lasses used, and what messages they conveyed to unwitting males.
In response, former Councillor Joan McEwen made an entreaty in Scots for more female representation in the Council.
A full programme of entertainment was provided by singers Anne Kemp and Paul Vaughan; accompanist Howard Duthie; fiddler Luisa Brown; and piper Martin Bristow.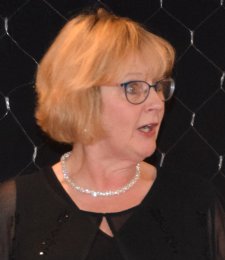 "John Anderson, my Jo";
Anne Kemp, soprano.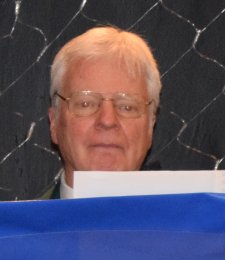 "The melodie that's sweetly played in tune";
Howard Duthie, accompanist.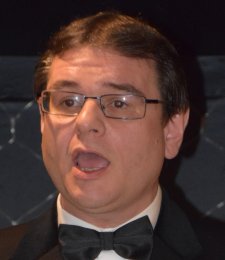 "I'll meet thee on the Lea-rig";
Paul Vaughan, tenor.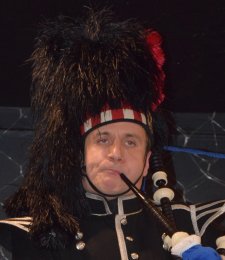 "He screw'd the pipes and gart them skirl"; Martin Bristow, piper.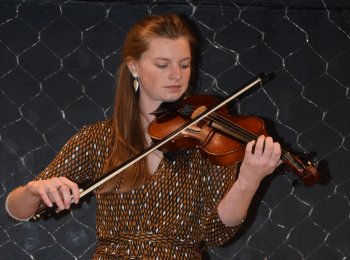 "Hornpipes, jigs, strathspeys and reels";
Fiddler Luisa Brown.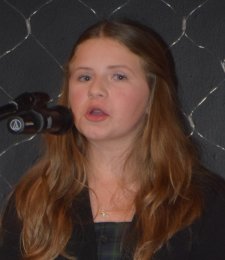 "The best laid schemes o mice and men";
Charlotte Speirs.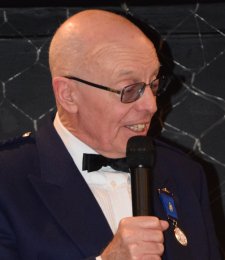 "That day, ye pranc'd wi muckle pride";
Iain Harkins.




The spoken word was performed by Charlotte Speirs, last year's Schools' Festival President's Prize winner, who recited "To a Mouse", and by Iain Harkins, who performed the "The Auld Farmerís New-Year Morning Salutation to his Auld Mare, Maggie."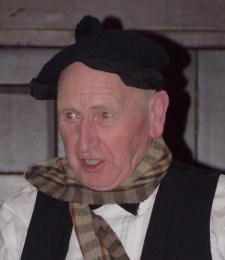 "Kings may be blest, but Tam was glorious";
Donald Paton.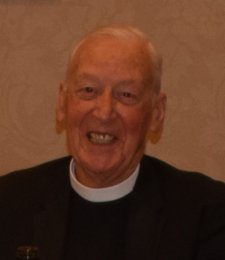 "Sae let the Lord be thankit"; Rev Geoffrey Hall.





Donald Paton performed his virtuoso trademark Tam o' Shanter by candlelight.

The Rev Geoffrey Hall spoonerised and recited the Selkirk Grace.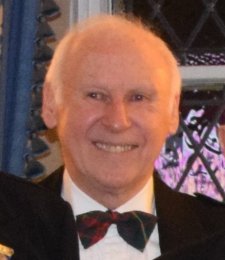 "Kindred Clubs and Societies"
Iain Mackintosh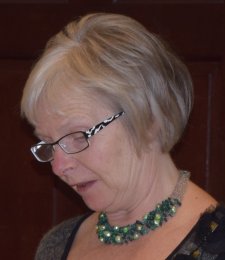 "In praise of speakers and artistes"
Joan Allan




Club secretary Iain Mackintosh toasted Kindred Clubs and Caledonian Societies. A gracious vote of thanks was proposed by the club's vice-president Joan Allan and the evening ended with the traditional singing of "Auld Lang Syne".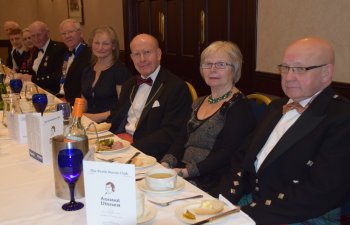 Top table.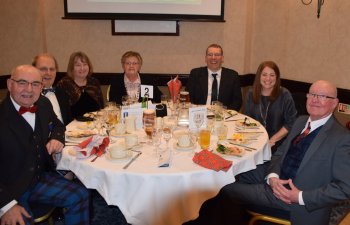 Table 2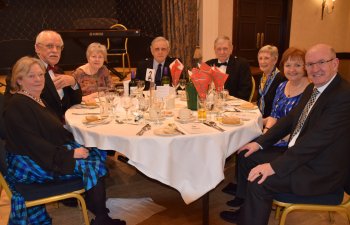 Table 3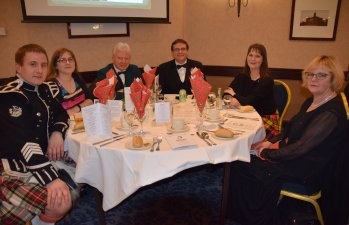 Table 4 (Artistes)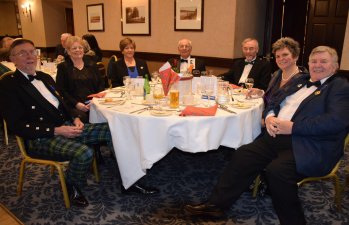 Table 5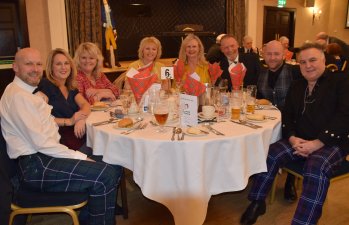 Table 6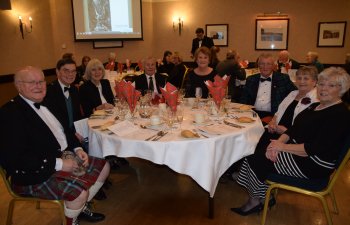 Table 7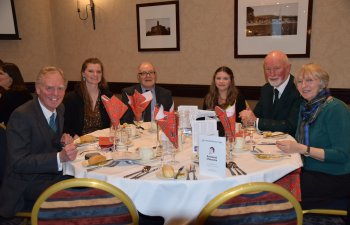 Table 8 (Artistes)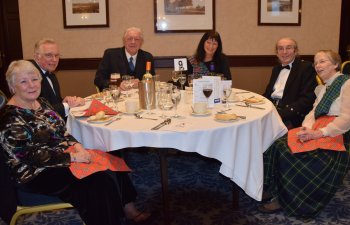 Table 9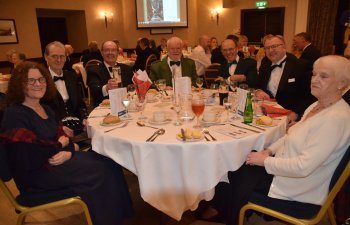 Table 10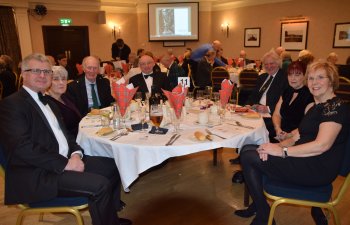 Table 11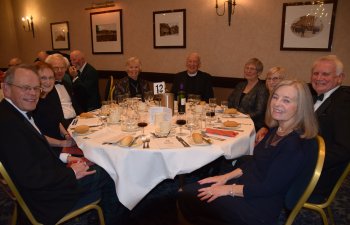 Table 12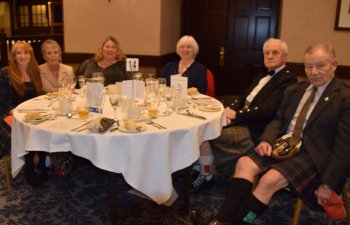 Table 14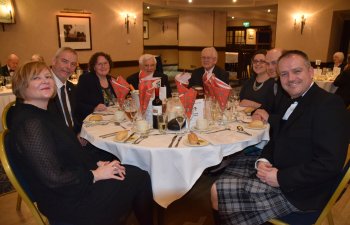 Table 15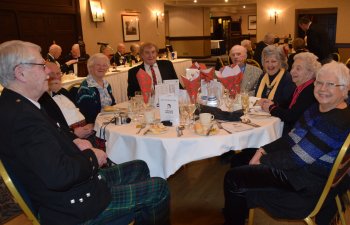 Table 16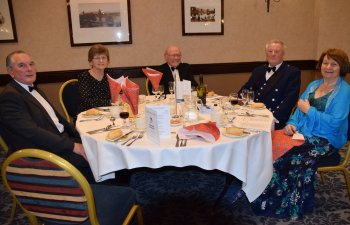 Table 17
NB: No Tables 1 or 13.
All photographs courtesy of Elliott Boyle,
Perth Burns Club.
Email Elliott if you'd like a copy of a photograph.