Annual Dinners
| 2022 | 2020 | 2019 | 2018 | 2017 | 2016 | 2015 | 2014 | 2013 | 2012 | 2011 | 2010 | 2009 |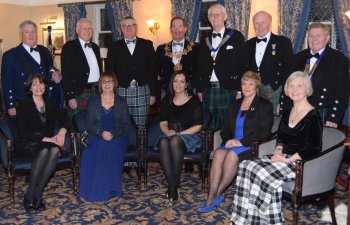 One of Perth's most popular social occasions, the Annual Dinner of the Perth Burns Club was held in the Salutation Hotel, Perth on Saturday, January 23, 2016 and attended by a gathering of around 130 members and guests. Once more the function lived up to its reputation of being one of the country's foremost mixed Burns Nights with an excellent programme of prominent speakers and entertainers.
Members of the top table group. Back row [l to r] Piper Robert Hamilton, Iain Mackintosh, Jim Thomson, RBWF President Dr Peter Hughes, Club President Lawrence Read, Donald Paton, Club Vice President Jim Calderwood. Front row [l to r] Fiona Mackintosh, Sheena Thomson, Tasmina Ahmed-Sheikh MP, Brenda Calderwood, Wilma Paton.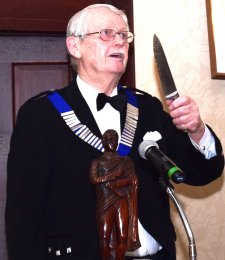 "He'll make it whissle". President Lawrence Read addressing the haggis.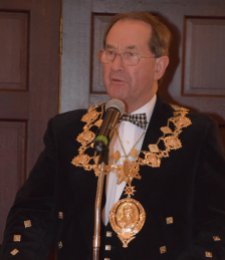 The principal speaker, Dr Peter Hughes OBE, proposing the Immortal Memory.




The Immortal Memory was proposed by Dr Peter Hughes OBE, from Carluke, this year's Robert Burns World Federation president, who delivered a very powerful and personal reflection on Burns the man, part spoken and part sung.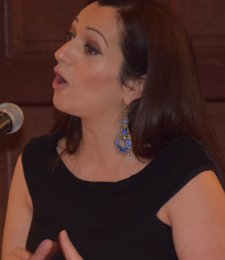 Tasmina Ahmed-Sheikh delivering the reply for The Lasses.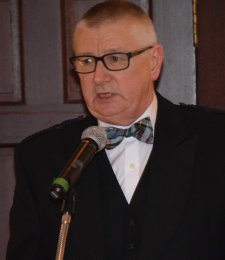 Jim Thomson proposing the toast to The Lasses.


Jim Thomson of Kilmarnock, the Immediate Past RBWF president, proposed the toast to The Lasses. His deadpan delivery included some hilarious anecdotes from his police days and he finished with a heartfelt appreciation of the fair sex.

A lively, provocative and ultimately conciliatory response was given by the multi-talented Tasmina Ahmed-Sheik, MP for Ochil and South Perthshire.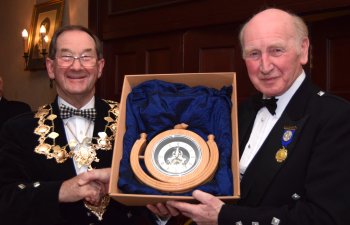 Donald Paton receives his retirement gift from RBWF President Dr Peter Hughes. Donald stood down from his secretary post at the Club's 2015 AGM. His service as an office-bearer spanned 35 years, 34 as secretary and one as president - a position his father also held from 1977-79.
Donald's clock is a unique design, handcrafted in Scottish oak by Gordon Stewart of Kinghorn, and bearing both Scottish and Burns decorations.
A full programme of entertainment was provided by singers Wilma Paton, Craig Dennis, Paul Vaughan and Holly Jarvis; fiddler Jake Paterson; accompanist Andrew Forbes and piper Robert Hamilton.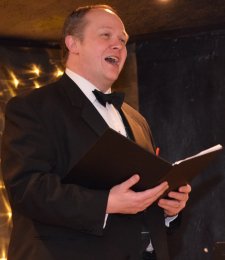 "Green Grow the Rashes O"; Craig Dennis, baritone.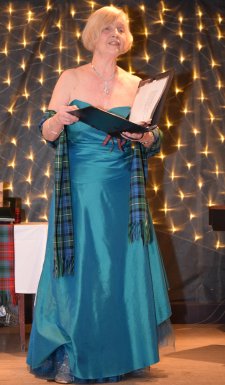 "The Banks o Doon"; Wilma Paton, soprano.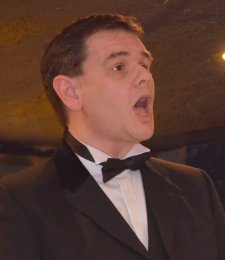 "My Nanie's Awa"; Paul Vaughan, tenor.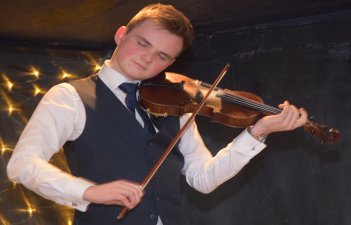 "Hornpipes, jigs, strathspeys and reels"; Jake Paterson, fiddler.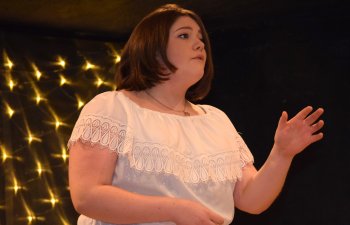 "John Anderson My Jo"; Holly Jarvis, singer.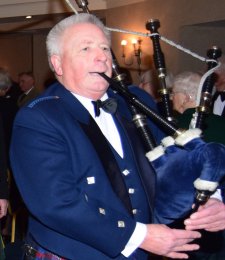 "He screw'd the pipes and gart them skirl"; Robert Hamilton, piper.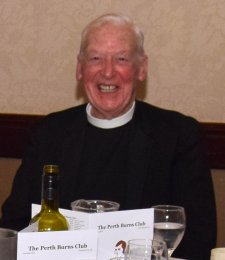 "Sae let the Lord be thankit"; Rev Geoffrey Hall.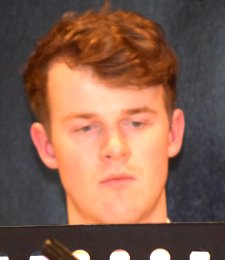 "The melodie that's sweetly played in tune"; Andrew Forbes, accompanist.
The spoken word was performed by Donald Paton who deputised for the indisposed Michael Kidd with "Mary Morison", then later delivered a bravura version of his trademark "Tam o' Shanter".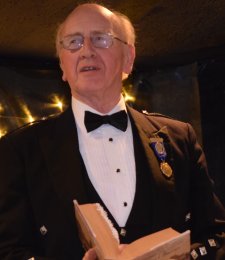 "Whase only faut is loving thee?"; Donald Paton.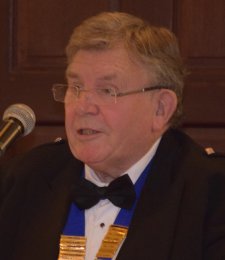 "Thanks be to speakers and artistes"; Jim Calderwood.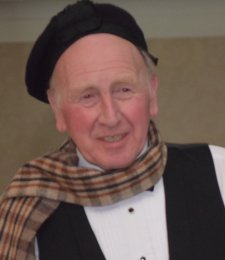 "Tam saw an unco sight!"; Donald Paton.
The evening was under the chairmanship of club president Lawrence Read who addressed the haggis and proposed the Loyal Toast. Club secretary Iain Mackintosh toasted Kindred Clubs and Caledonian Societies. The Rev Geoffrey Hall recited the Selkirk Grace. A comprehensive vote of thanks was proposed by the club's vice-president Jim Calderwood and the evening ended with the traditional singing of "Auld Lang Syne".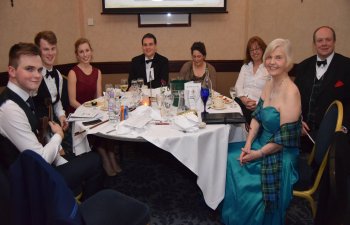 Artistes' table.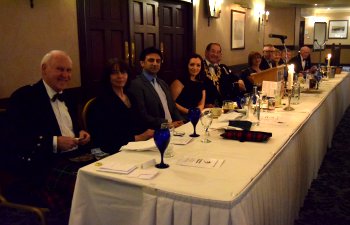 Top table.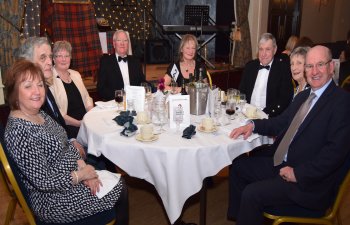 Table 2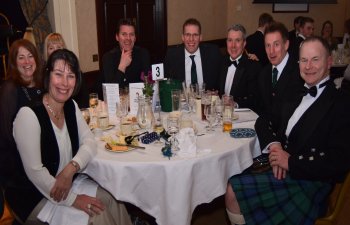 Table 3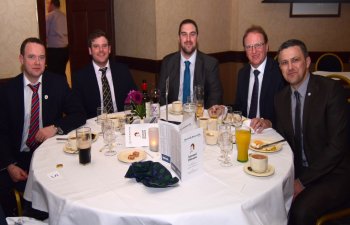 Table 5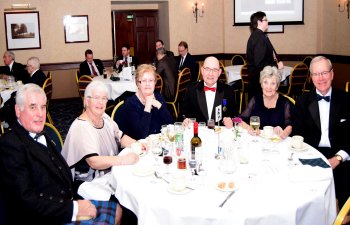 Table 6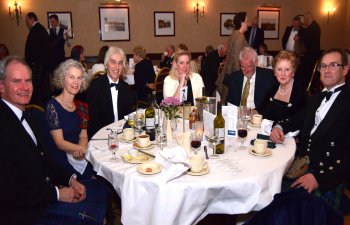 Table 7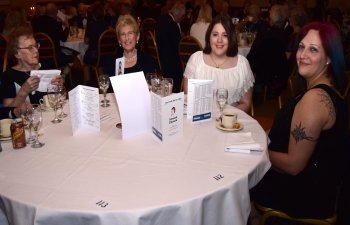 Table 8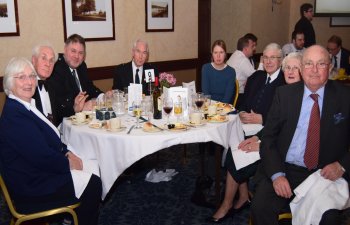 Table 9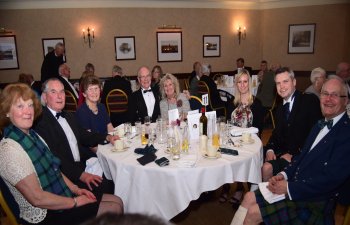 Table 11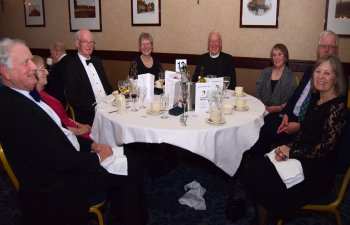 Table 12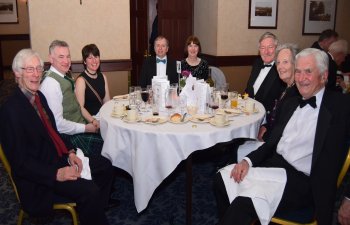 Table 14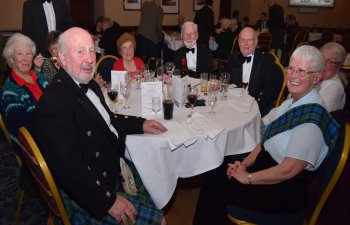 Table 15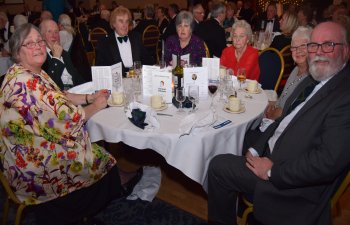 Table 16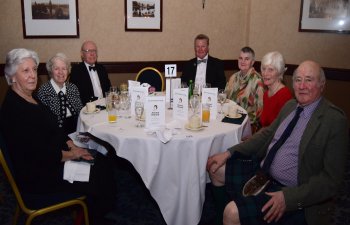 Table 17



NB
No Table 1 or 13.
Artistes Table is Table 4.
Apologies to Table 10 - no photograph available.
All photographs courtesy of Elliott Boyle, Perth Burns Club.
Email Elliott if you'd like a copy of a photograph.