Annual Dinners
| 2022 | 2020 | 2019 | 2018 | 2017 | 2016 | 2015 | 2014 | 2013 | 2012 | 2011 | 2010 | 2009 |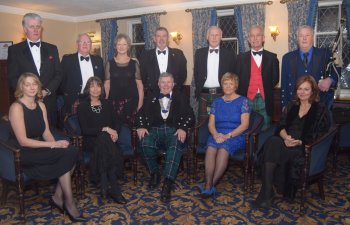 One of Perth's most popular social occasions, the Annual Dinner of the Perth Burns Club, was held in the Salutation Hotel, Perth on Saturday, January 28, 2017 and attended by a gathering of around 125 members and guests. Once again the function lived up to its reputation of being one of the country's foremost mixed Burns Nights with hugely entertaining programme of excellent speakers and performers.
Members of the top table group. Back row [l to r] John Cowmeadow, Club Vice President Stewart MacDougall, Sandra MacDougall, RBWF Canadian Director Ronnie O'Byrne, Iain Mackintosh, Syd House MBE, Piper Robert Hamilton. Front row [l to r] Dr Nicola Cowmeadow, Fiona Mackintosh, Club President Jim Calderwood, Brenda Calderwood, Katie House.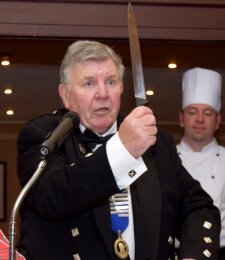 "In his walie nieve a blade". President Jim Calderwood addressing the haggis.
The principal speaker, Ronnie O'Byrne, proposing the Immortal Memory.




The Immortal Memory was proposed by Ronnie O'Byrne from Vineland, Ontario, Canadian Director of the Robert Burns World Federation, who recalled his introduction to Burns following the death of a close relative, and how Burns' qualities of humanity, language and expression became a passion for him.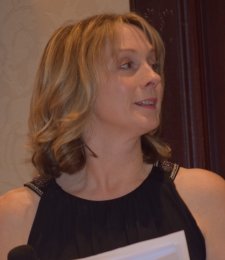 Dr Nicola Cowmeadow delivering the reply for The Lasses.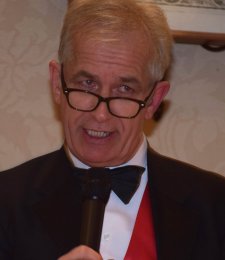 Syd House MBE proposing the toast to The Lasses.


Syd House MBE of Almondbank, the former forester (whose beat included the Birks o' Aberfeldy) joined forces with PKC Local History Officer Dr Nicola Cowmeadow of Perth to propose and respond to the toast to The Lasses in a ground-breaking joint performance. Their well-written script was performed seamlessly, and featured a number of witty transpositions of Burns into modern parlance, before finishing with a nicely sung duet.
A full programme of entertainment was provided by singers Anne Kemp, Craig Dennis, Paul Vaughan and Holly Jarvis; fiddler Claire Telford; accompanist Alister Allan and piper Robert Hamilton.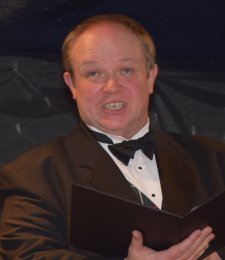 "A man's a man for a' that";
Craig Dennis, baritone.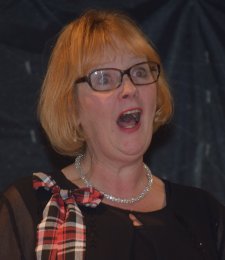 "Ca' the yowes to the knowes";
Anne Kemp, soprano.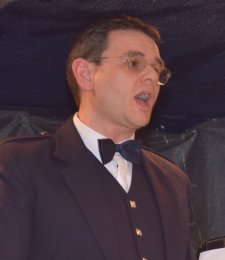 "I'll ay ca' in by yon toon";
Paul Vaughan, tenor.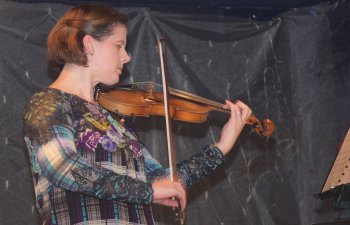 "Hornpipes, jigs, strathspeys and reels";
Claire Telford, fiddler.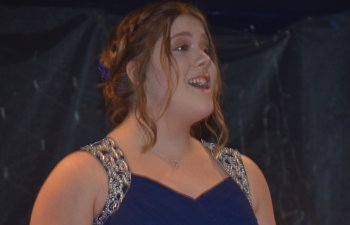 "Had we never lov'd sae blindly";
Holly Jarvis, singer.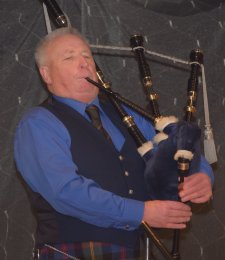 "He screw'd the pipes and gart them skirl"; Robert Hamilton, piper.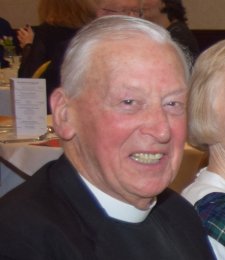 "But we hae meat and we can eat"; Rev Geoffrey Hall.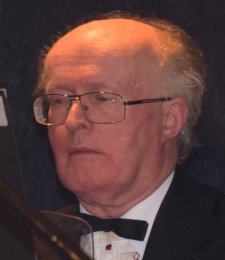 "The melodie that's sweetly played in tune"; Alister Allan, accompanist.
The spoken word was performed by Dr Donald Macgregor, who performed the satirical "Holy Willie's Prayer" in full costume; Ronnie O'Byrne, who gave the audience a wonderfully expressive "Tam o' Shanter"; and Club member Iain Harkins, who delivered an unscheduled and very amusing rendition of "Willie Wastle".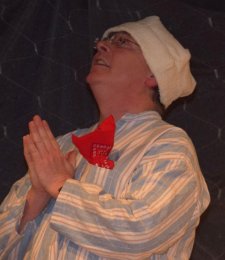 "But Lord, remember me and mine";
Dr Donald Macgregor.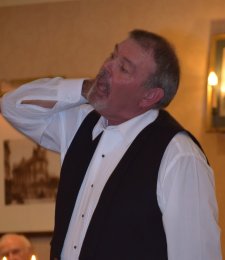 "Whare Mungo's mither hang'd hersel";
Ronnie O'Byrne.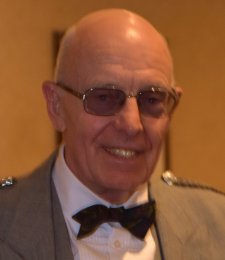 "I wad na gie a button for her";
Iain Harkins.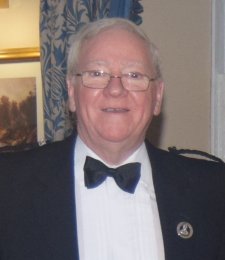 "In praise of speakers and artistes"
Stewart MacDougall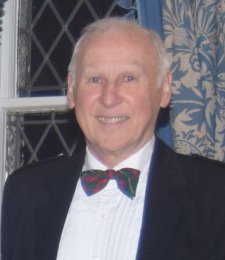 "Kindred Clubs and Societies"
Iain Mackintosh
The evening was under the chairmanship of club president Jim Calderwood who addressed the haggis and proposed the Loyal Toast. Club secretary Iain Mackintosh toasted Kindred Clubs and Caledonian Societies; intimated greetings from Provost Liz Grant and Miss GB, Ursula Carlton; read verses submitted by Donald Paton from Vancouver; and ran the raffle. The Rev Geoffrey Hall recited the Selkirk Grace. A comprehensive vote of thanks was proposed by the club's vice-president Stewart MacDougall and the evening ended with the traditional singing of "Auld Lang Syne".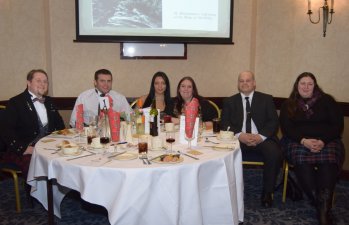 Table 1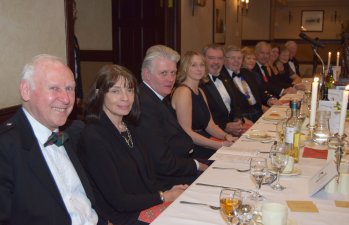 Top table.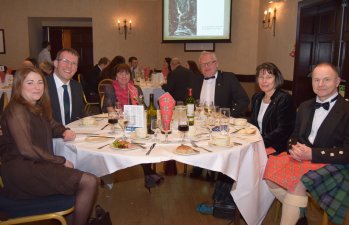 Table 2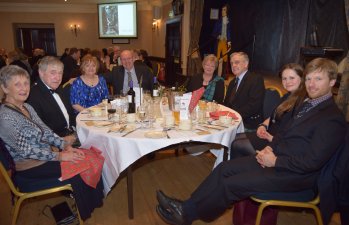 Table 3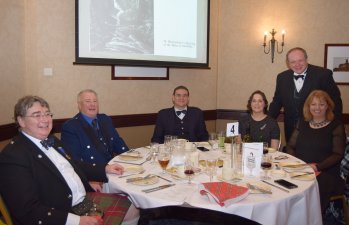 Table 4 (Artistes)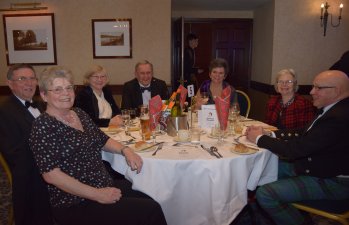 Table 5
Table 6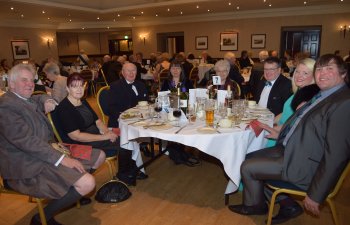 Table 7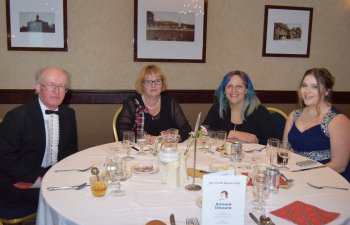 Table 8 (Artistes)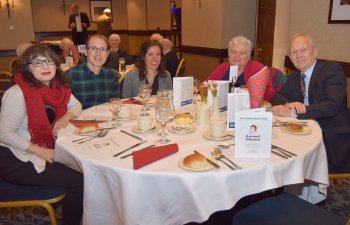 Table 9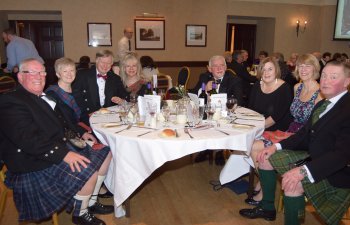 Table 10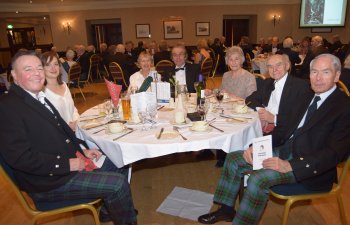 Table 11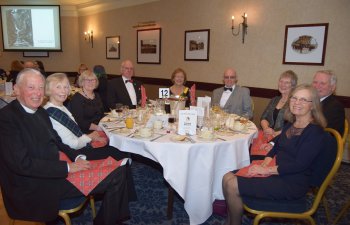 Table 12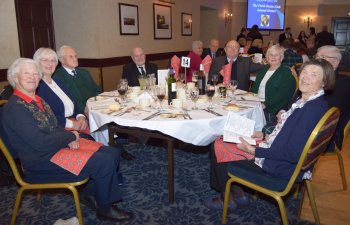 Table 14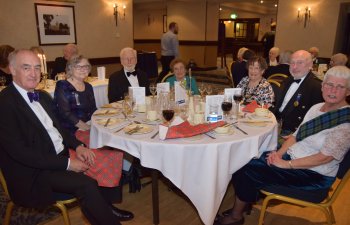 Table 15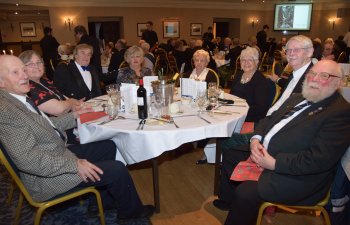 Table 16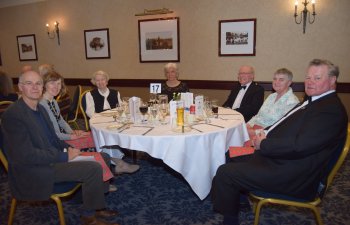 Table 17



NB
No Table 13.
All photographs courtesy of Elliott Boyle,
Perth Burns Club.
Email Elliott if you'd like a copy of a photograph.