Summer Outings
| 2019 | 2018 | 2017 | 2016 | 2015 | 2014 | 2013 | 2012 | 2011 | 2010 |
2018 Outing, Sunday 3rd June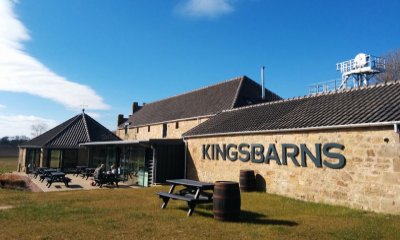 Kingsbarns Distillery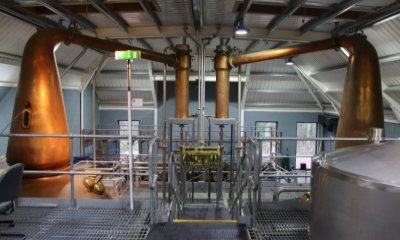 Kingsbarns Distillery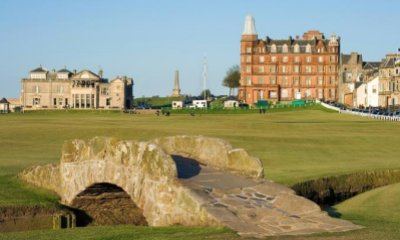 St Andrews Old Course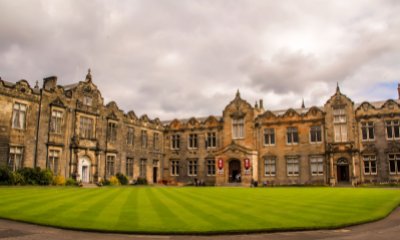 St Andrews University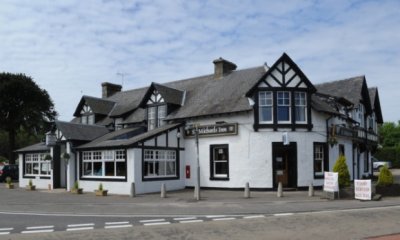 St Michaels Inn
Despite some late call-offs, 27 travellers made the journey to Kingsbarns, St Andrews and St Michaels. After the May sunshine, the weather was overcast and cool, but we avoided the rain and had a fine trip.
Local caddie Douglas Clement was the inspiration for the Kingsbarns Distillery after receiving persistent requests from golf tourists for an easily accessible distillery tour.
The near-derelict farm steading next to Kingsbarns Golf Course was an obvious target - it had been built around 1800 to service the nearby Cambo estate.
It took 36 months of planning and renovation, funded by £5m of investment from the Wemyss Trust before the visitor centre was opened on St Andrew's Day 2014.
Distilling started in 2015, with the first casks being filled in March that year. Kingsbarns will produce a light and dry Lowland malt.
The site supplies its own spring water from underlying sandstone beds, and barley is grown on the Wemyss estates and elsewhere in Scotland.
Malting is performed in Lancashire, and American and Belgian yeasts are used in fermentation.
The Wemyss family already has an established reputation in the whisky business as independent bottlers of single cask and blended malt whiskies.
A feature of the building is the restored doocot, where 600 terracotta roosts can be inspected along with the first whisky cask to be laid down.
No doos these days, but they were a feature of the original steading, supplying meat and eggs to the farming residents.
The party then split into two to sample the whiskies (a 60+% spirit drink and Wemyss blends) and gins (Kingbarns produce under the Darnley label), before visiting the shop and in-house cafe for teas, coffees and snacks.
A short bus drive later we arrived in St Andrews, where we had 2-3 hours of do-it-yourself entertainment in the historic town.
Before the Reformation, the town was the centre of the Catholic Church in Scotland and is also held to be the home of golf.
Some ventured round the sights (cathedral, castle, golf attractions and the university), while others enjoyed the local shopping.
A range of coffee shops, ice cream parlours and local watering holes were on hand for relaxation.
Another short drive northwards, and we reached St Michaels Inn where we were treated to an excellent high tea.
President Stewart MacDougall thanked proprietor Douglas together with his very attentive waiting staff, the bus driver and all those who attended for a great day out.
We got a braw view of the new V&A building and a big cruise ship as we crossed the Tay at Dundee on the return leg of our journey.
Many thanks as ever to Arthur and Jean Bruce who organised the excursion and handled all the various admin matters which arose during the day.