Summer Outings
| 2019 | 2018 | 2017 | 2016 | 2015 | 2014 | 2013 | 2012 | 2011 | 2010 |
2016 Outing, Sunday 12th June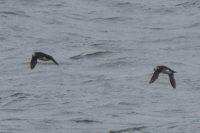 Pursued by puffins...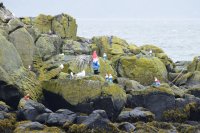 Inchgnome Island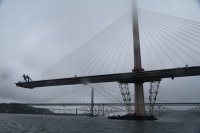 Bridges old, decrepit and new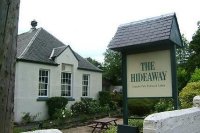 Hideaway Restaurant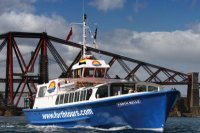 Forth Belle (in sunnier times)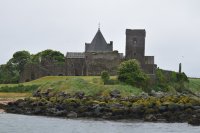 Inchcolm Abbey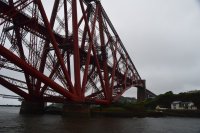 Forth Bridge (built to last...)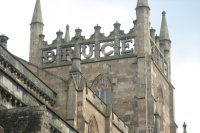 Dunfermline Abbey
Overcast weather failed to dampen the spirits of the 30 travellers who took part in this year's Summer Outing. The focal point was South Queensferry, where we had advertised a choice between a cruise round the Forth Bridges or a visit to Hopetoun House. In the event, everyone subscribed to the cruise. The cloud base was low but the winds were light, so the Sunday sailors were able to relax and enjoy the sightseeing.
The cruise began by sailing round Inchcolm Island with its Abbey. It was possible to disembark and catch the next boat back, but the local fulmars protecting their chicks discouraged any landing. The puffins were good to watch, and the gnomes an unexpected bonus.
The launch sailed under all three bridges, with their diverse designs and engineering, and the scale of the challenges provided a real inspiration to the technical and non-technical alike.
After some on-shore relaxation in South Queensferry, the bus made its way to Dunfermline where passengers were able to enjoy an extra stroll around the famous Abbey by Pittencrieff Park, the final resting place of King Robert the Bruce and the post-Iona burial site of the Kings and Queens of Scotland.
The day concluded with a handsome high tea in the Hideaway Restaurant, Halbeath, where new president Jim Calderwood thanked the waiting staff, the driver and those attending for a great day's entertainment.
Thanks to Arthur and Jean Bruce who organised the excursion and to Elliott Boyle who took most of the photographs.