Summer Outings
| 2019 | 2018 | 2017 | 2016 | 2015 | 2014 | 2013 | 2012 | 2011 | 2010 |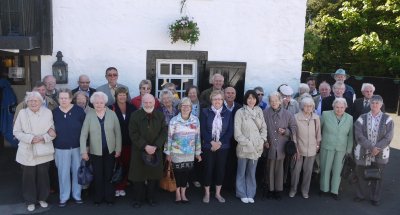 36 members and guests attended the club's Summer Outing which took place on Sunday June 3, 2012, enjoying the bittersweet weather of summer in Scotland. The weekend coincided with the celebration of The Queen's Diamond Jubilee, and the excursion appropriately had a royal theme.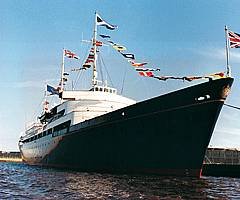 The starting point was the Royal Yacht Britannia, moored at Ocean Terminal in Leith. The party toured all of the ship's decks, ranging from the bridge, through the fabulous state apartments, the crew's quarters and the gleaming engine room. The wealth of detail and organisation was highly impressive, as were the original fittings, artefacts and photographs, most loaned by the Royal Collection. Also praised were the Royal Deck Tearoom and the sleek 1930's classic racing yacht Bloodhound, anchored alongside.
With devilish cunning, the Ocean Terminal designers had located a shopping mall betwixt Britannia and bus, and a number of party members had to be rescued from its clutches by our experienced recovery team.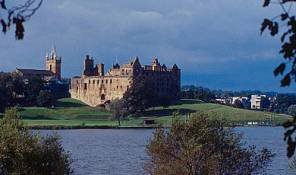 The tour continued via Edinburgh's tramworks and associated traffic chaos (driver Norman was at his most effusive during this passage), before reaching Linlithgow Palace, situated beside Linlithgow Loch.
The Palace is one of Scotland's most historic buildings and was a favourite residence of the Stuart kings. It was the birthplace of Mary Queen of Scots and was visited by Robert Burns in 1787.
The party enjoyed their stroll around the attractive centre of Linlithgow, with many taking advantage of local shops and cafes while the more devout made pilgrimages to The Black Bitch and The Four Marys.
A fine high tea was provided by the Bridge Inn, situated by the River Avon. The outing returned to Perth at 7pm, having enjoyed a raffle and a DVD of Professor David Purdie's 1996 Immortal Memory en route (courtesy of Jim McNeill who filmed it).
Yet another highly enjoyable day out, and special thanks are due once more to Arthur and Jean Bruce for their excellent organisation.