Summer Outings
| 2019 | 2018 | 2017 | 2016 | 2015 | 2014 | 2013 | 2012 | 2011 | 2010 |
2014 Outing, Sunday 1st June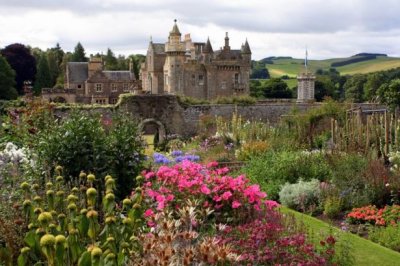 Abbotsford House, near Melrose.
Please note that insufficient numbers have led to this outing being cancelled.
This year's Summer Outing falls on Sunday, 1st June, and is heading to the Scottish Borders with the focal point being a visit to Abbotsford House, well-known as the home of Sir Walter Scott. Constructed on the proceeds of Scott's literary career, Abbotsford is an enduring monument to the talents, tastes and achievements of its creator.
A £14 million regeneration project was completed last year and a new visitor centre opened in 2012.
The cost of the outing, which will include coach travel and high tea at The Hideaway (Dunfermline) during the return journey, is expected to be around £22. There is an extra charge of £8 for admission to Abbotsford.
As this year's outing is likely to prove a popular choice, early booking is advised. Full details and an itinerary will be issued nearer the time to those who have made reservations.
Please make your reservation now by contacting Arthur Bruce, 33 Lumsden Crescent, Perth PH1 3LG, tel 01738 583410, email Arthur Bruce.