Summer Outings
| 2019 | 2018 | 2017 | 2016 | 2015 | 2014 | 2013 | 2012 | 2011 | 2010 |
2013 Outing, Sunday 2nd June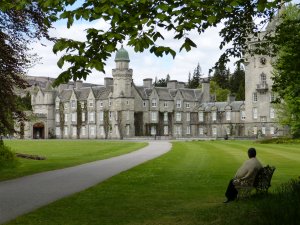 Jean Bruce admires the sunlit Balmoral Castle.
33 people made the trip, enjoying the fantastic weather and beautiful scenery. The bus arrived in Balmoral at 10:45am and left at 2pm.
The grounds at Balmoral were lovely and, although we were a bit early for a lot of the flowers, the greenhouses were beautiful. The gardens sit at 1,000 feet above sea level so there is a very short growing season.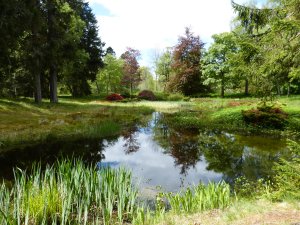 The pond at Balmoral, situated to the west of the garden cottage.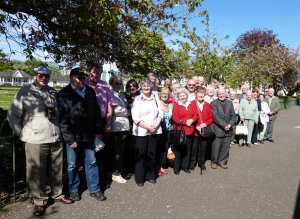 Happy travellers at the Park Hotel, Montrose.
The bus then proceeded to Montrose where the group sat down to an excellent meal at 5pm.
The Park Hotel staff were very efficient and friendly (everybody was served by 5.10pm!) and our cups ran over from refills of tea and coffee.
Club vice-president Lawrence Read proposed a vote of thanks to the bus driver, the hotel staff, and the work done by Arthur and Jean Bruce in organising a thoroughly enjoyable day.
The party arrived back in Perth at 7:30pm.
All photographs courtesy of Arthur Bruce, Perth Burns Club. Email Arthur if you'd like a copy of a photograph.